Message from Chair (Research)
Message from Chair (Research)

Message from Associate Graduate Chair (Research)
Dear Applicant,
Welcome to the Graduate Research Program in the Department of Mechanical and Materials Engineering. Our department offers two thesis-based research programs; Master of Engineering Science (MESc) and Doctor of Philosophy (PhD). Both programs provide opportunities for students to conduct innovative fundamental and/or applied research using leading edge experimental or computational research facilities under the supervision of the faculty member(s).


We possess research strengths in diverse areas addressing present day challenges as well as developing technologies for the future. Some of the recent innovations by our faculty members are in the areas of advanced materials and manufacturing, thermofluids, renewable energy technologies and biomedical. Depending on your area of research, you may also have access to outstanding campus-wide research facilities such as Wind Engineering, Energy, and Environment (WindEEE) laboratory, Fraunhofer Project Centre (FPC) for Composite Research, Nanofabrication laboratory, Hand and Upper Limb Centre (St. Joseph's Hospital)Surface Science laboratory and many others.

Western is located in London; a mid-size city with a population of over 380,000 about 200 km south-west of Toronto. Along the banks of Thames river, the university campus is considered as one of the most beautiful campuses in Canada.

Campus life is full of academic and extra-curricular events and activities. Western's student family housing is minutes away from the main campus and provides all amenities for comfortable family living.

If you have any questions about our research program, I encourage you to contact myself or the graduate office.

We look forward to providing you the best support during the admission process as well as during the program of study.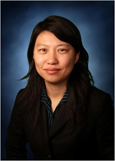 Sincerely,

Liying Jiang
Associate Chair, Graduate Research Programs

If you are experiencing difficulty with the electronic application, please email gradapps@uwo.ca
or contact the dedicated phone line 519-850-2341