Research Interests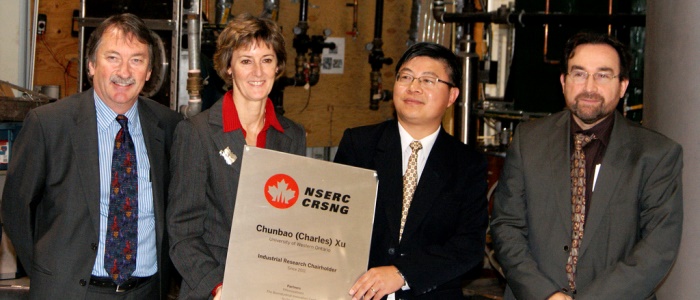 Forest biorefinery
Conversion of agricultural biomass/residues into starch/cellulose acetates and bio-based polyurethane materials
Valorization of glycerol into fuel additives and chemicals
Upgrading of heavy residual oil or bio-crude via hydro-treatment
Recovery of organics from oil sands process and tailing water
Current Research
Forest biorefinery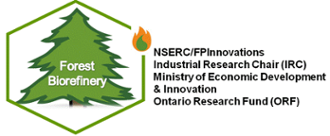 Catalytic conversion of sugars into value-added chemicals; renewable hydrogen/methane production via supercritical water gasification of wet biomass or organic wastes; bio-crude production via hydrothermal liquefaction of biomass; de-polymerization of lignin into bio-phenols and bio-polyols; synthesis of bio-based resins/adhesive, polyurethane and epoxy resins.
Conversion of agricultural biomass/residues into starch/cellulose acetates and bio-based polyurethane materials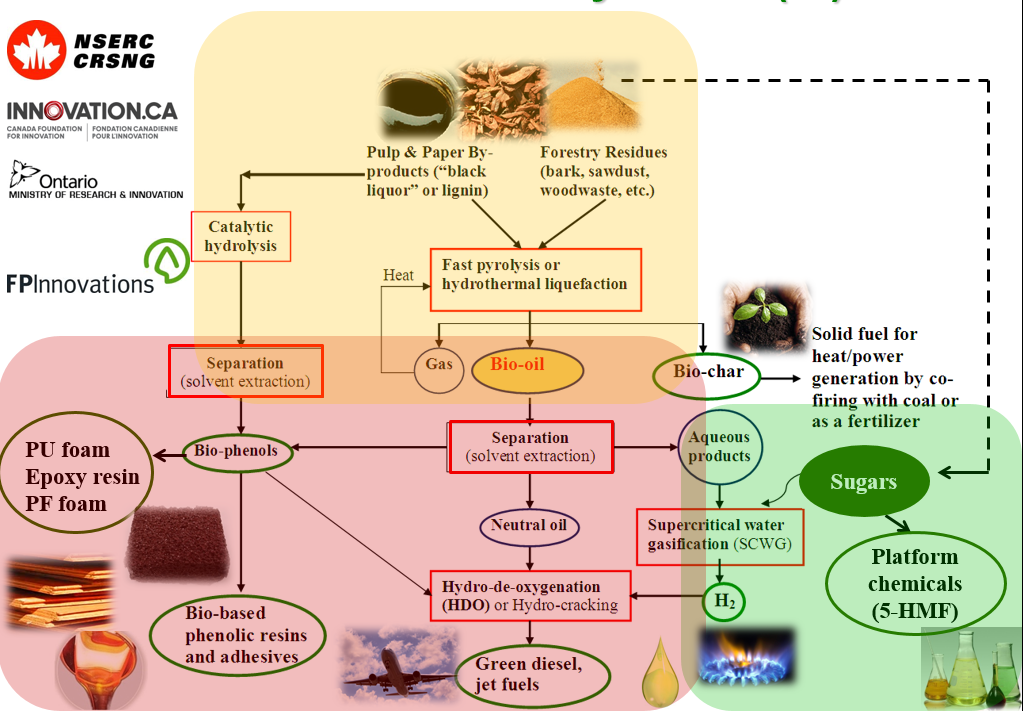 Development of efficient processes to separate lignin and hemicellulose from crop residues (or food processing residue); Utilization of separated lignin as bio-polyols for the synthesis of polyurethane foam or adhesives; Use of the residual cellulose and starch separated from crops for the production of cellulose/starch acetate materials with different degrees of acetylation
Valorization of glycerol into fuel additives and chemicals
The booming of biodiesel industry all over the world has led to generation of a huge amount of glycerol as byproduct. It was predicted that by 2020 the global production of glycerol will be 41.9 billion liters annually. In order to avoid the saturation of global glycerol market, it is urgent to develop value-added products to consume the excessive glycerol for the sustainability of biodiesel industry. We are working with petrochemical industries to develop proprietary catalysts and continuous process to convert glycerol (even crude glycerol) into oxygenated fuel additives or chemicals such as solketal, 1,2-propanediol and 1,3-propanediol. 
A continuous process for valorization of crude glycerol into fuel additives and bio-chemicals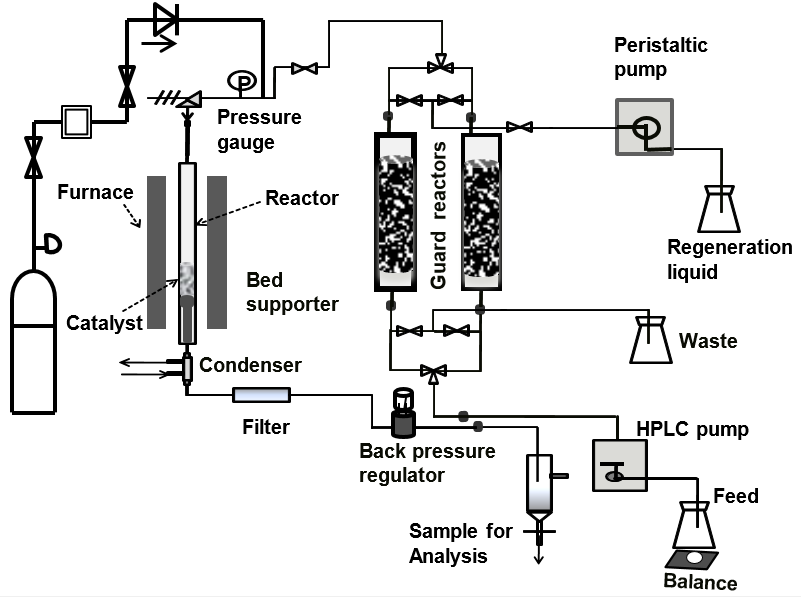 Upgrading of heavy residual oil or bio-crude via hydro-treatment
The project aimed at investigating removal of heterocyclic S and N from oil sand bitumen or heavy gas oil derived from oil sand bitumen in supercritical fluids (paraffinic solvents) using hydrodesulfurization (HDS) and hydrodenitrogenation (HDN) catalysts. Similarly, we are also working on upgrading bio-crude oil or fast pyrolysis oil via hydro-de-oxygenation (HDO), mainly focusing on developing inexpensive HDO catalysts (such as phosphorous-modified NiMo/Al2O3 catalysts, activated carbon or mesoporous materials (MCM-41, SBA-15) supported catalysts.
Recovery of organics from oil sands process-affected water
This project aims to develop cost-effective technological solutions to recycling and recovery of valuable products from industrial residues and waste streams – petroleum coke, oil sands process-affected water. Canada is blessed with the second largest proven reserve of oil in the world, mainly in oil sands deposits in Alberta. In the oil sands industry, an average of 3 barrels of fresh water is needed for every barrel of oil produced from surface mines. A large fraction of the process water ends up in the tailings produced during bitumen extraction. The oil sands process-affected water contain organics from the bitumen separation process (e.g., naphthenic acids (NAs) and bitumen/aromatic hydrocarbons), among which NAs are the major constituent in terms of both concentration and toxicity. Treatment of the process water has been a critical issue for the oil sands industry, with respect to sustainable oil production and freshwater resource protection. In this project, we are closely collaborating with Newalta Corporation to develop innovative engineered environmental solutions to valorization of petroleum coke as an inexpensive but effective adsorbent (highly porous activated carbon (HPAC, as illustrated in the following image) materials with tailored structure/surface properties) for treatment of oil sand process water and tailings. The removal and recovery of NAs/bitumen using the HPAC materials produced from residues (petroleum coke) could not only reduce fresh water consumption and enable recovery of residual organics from process water and tailings, but also turn residue petroleum coke into valuable products (adsorbents) and hence, reduce the need for disposal.
SEM images of the original fluid coke (a) and the petroleum coke-derived HPAC (b).

My Research Group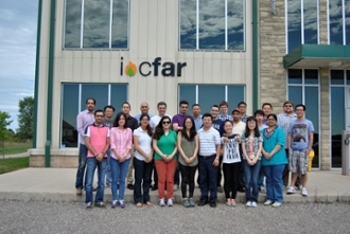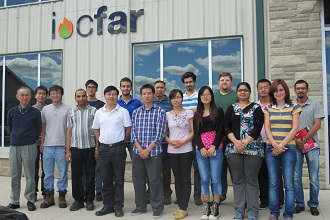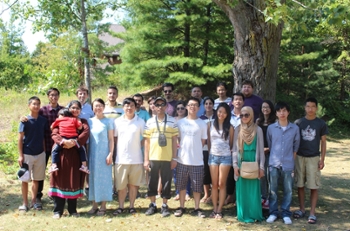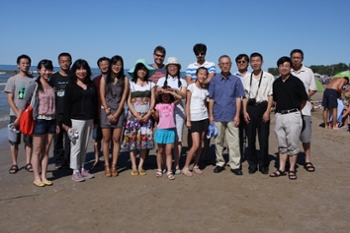 Opportunities in My Group
The following positions are occasionally available:
Postdoctoral fellowship
Ph.D. studentship
M.E.Sc. studentship
Undergraduate summer project studentships
To apply for the postdoctoral or summer student positions, please contact Dr. Xu directly at cxu6@uwo.ca.
Students with a strong background in chemical reaction engineering, environmental engineering and applied chemistry are encouraged to apply for graduate student positions. Financial support will be offered for qualified appointees. To apply for the PhD or M.E.Sc. graduate student positions, Please prepare and submit your application online following the instruction given on: http://www.eng.uwo.ca/chemical/prospect-grad.htm. Dr. Xu is within the research group of Environmental and Green Engineering. Students whose first language is not English should arrange to take the TOEFL or IELTS tests and have official score reports sent to UWO directly from the testing center. The admission requirements on English proficiency are: TOEFL Electronic – minimum score of 86 (overall), with no individual score below 20; TOEFL Paper – minimum score of 550; IELTS – minimum score of 6.0 (overall), with no individual score below 6.0.