Engineering Now .: Volume 4 - Edition 4 .: December 2007 and January 2008
Western Engineering & Science Research Showcase 2008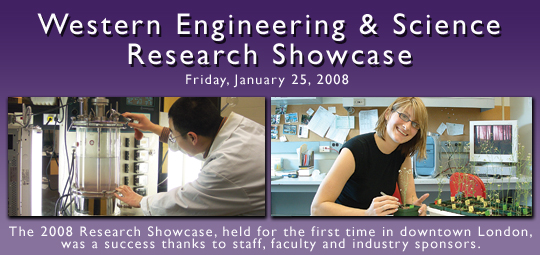 The Showcase had over 100 poster presentations on display, as well as industry sponsors and booths set-up for visitors to peruse (more)
Ross & Jean Scholarship recipients announced
Congratulations to Chemical and Biochemical Masters student Shahram Amirnia, and Civil and Environmental PhD student Hesham Zare for winning Ross & Jean Clark scholarships (more).


Dr. Horia Hangan invited to a workshop hosted by the U.S. Department of Energy
The workshop on Wind Resource Characterization took place in Broomfield, Colorado from January 14 to 16. The aim of the workshop was to bring together experts from industry, R&D and academia to define the research needs for the wind energy sector in U.S. to ensure wind energy penetration levels of the order of 20% by 2030.


Dr. Slobodan Simonovic nominated for Fellowship
Congratulations to Dr. Simonovic for having his nomination for a Fellowship in the Canadian Society of Civil Engineers approved, effective June 2008. Dr. Simonovic is a professor in the department of Civil & Environmental Engineering, and Research Chair with the Institute for Catastrophic Loss Reduction.


Western Engineering supporter EllisDon named Canada's best employer
Congratulations to EllisDon for coming out on top in a national survey by Toronto-based Hewitt Associates. EllisDon has been a financial supporter of Western Engineering in the past. The company, for which the Don Smith Design Studio in TEB is named, has about 1,000 employees across Canada.


Sun shines as new Canada Research Chair
A researcher at The University of Western Ontario hopes that small steps he takes in his lab will help us address energy needs while helping us leave an even smaller footprint on the environment. (more)


New Engineering project marvel of conservation
The ground breaking on the new engineering building addition will be in the true spirit of sustainability. (more)


Dream of "green" building about to come a reality at Western Engineering
At the start of Dean Franco Berruti's term, he had a dream: to create a facility developed by engineering students, for engineering students. That dream is becoming a reality, a very gratifying experience for Franco Berruti. (more)


A warm welcome to new faculty members Dr. Xianbin Wang and Dr. Jin Zhang
Dr. Wang and Dr. Zhang join the team as members of the Electrical & Computer Engineering department and the Chemical & Biochemical Engineering department (more).


A warm welcome to new staff member Stephanie Laurence
Stephanie Laurence has assumed the full-time continuing role of Undergraduate & International Development Coordinator in the Department of Civil & Environmental Engineering (more).


National Engineering Week
Founded in 1992, National Engineering Week (NEW) is a cross-country festival of volunteer-organized events (more).


New gifts, scholarships and awards
Western Engineering gratefully acknowledges the support of generous donors. (more).


2009-10 Rotary Academic Ambassadorial Scholarship


Applications for the 2009-10 Rotary Academic Ambassadorial Scholarship offered in the international Rotary District 6330 need to be completed this month, February 2008!

(more).


Undergraduate Symposium: National Security and the Environment in the 21st Century
The Royal Military College of Canada (RMC) extends an invitation to 40 civilian undergraduates to participate with 40 RMC Officer Cadets in an interdisciplinary symposium exploring the implications for national security of the unfolding environmental crisis (more).


Registration for Western's 2008 CS Games team is now open!
The Computer Science Games are a collegiate competition that includes challenges from all aspects of computing (more).


Canadian Medical Hall of Fame/Pfizer Canada Discovery Day in Health Sciences Participants are needed for Discovery Day in Health Sciences, a joint event between Western and Fanshawe College (more).


Entrepreneurial opportunity for students
Lightspeed Venture Partners, a Silicon Valley Venture Capital firm, is offering grants for undergraduate and graduate students studying engineering and computer science who are interested in exploring an entrepreneurial opportunity over the summer of 2008 in the technology or alternative energy fields. (more)


Call for MITACS Project Proposals
MITACS is soliciting proposals for new seed projects. Seed projects are expected to span 12-18 months duration. (more).


Ontario Ministry of Transportation - 2008 Highway Infrastructure Innovation Funding Program (HIIFP)
The Highway Infrastructure Innovation Funding Program funds research at Ontario colleges and universities to encourage basic and applied research in transportation infrastructure in Ontario. (more).


London's City Engineer heads west
After a five year tour with the City of London, Peter Steblin is heading west once again. (more).


Western Engineering Alumnus appointed to position with Western
Congratulations to alumnus Elizabeth Krische for being appointed as Director, Purchasing commencing January 14, 2008 (more).


Get involved and learn new skills with the Western Volunteers Program
Western's Volunteer Program is looking for participants. (more).


Interested in water management science and policy?
Environment Canada publishes and online newsletter with the latest news and information, called Water Science News. For more information and to subscribe, visit the Environment Canada Website.


New Hewlett-Packard Engineering Scholarships Asks: What Inspired You?
Hewlett-Packard has partnered with the Canadian Engineering Memorial Foundation to offer two new $2,500 scholarships to undergraduate women in engineering, with a focus on inspiration (more)



Click HERE to view Western Engineering's online calendar. This calendar includes a complete list of Western Engineering's upcoming events and deadlines.

Events are colour-coded as follows:
Grey - Faculty-wide events/deadlines
Purple - Student events/deadlines
Light blue/Teal - Faculty member events/deadlines
Orange - Faculty & Staff events/deadlines
Green - Staff events/deadlines
Yellow - UES Events/Announcements
Pink - Faculty, Staff and Graduate student events/deadlines
Dean Berruti's farewell reception
Monday, December 17, 2007


Western Engineering Week
January 7 - 12, 2008


Western Engineering & Research Showcase
Friday, January 25, 2008


Contact
.:Becky Blue
Spencer Engineering Building, Room 2074
Telephone: 519 850-2917 Fax: 519 661-3808 contactWE@eng.uwo.ca
---