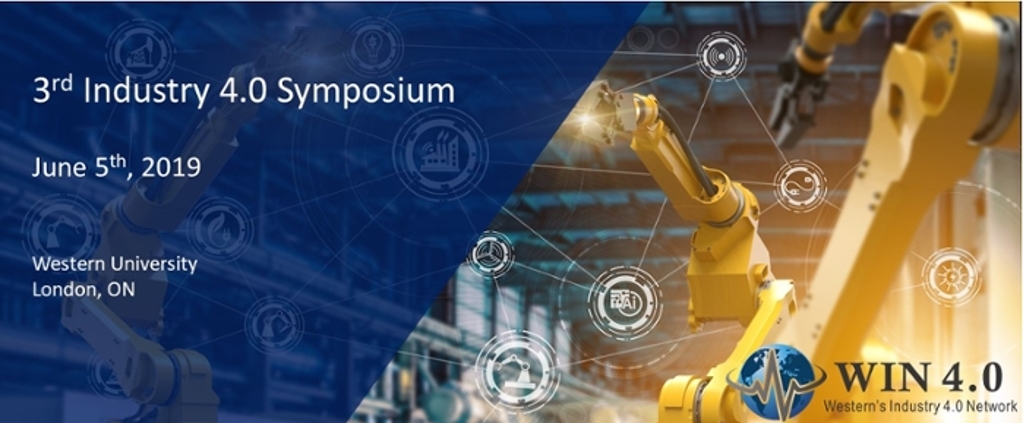 The 3rd Industry 4.0 Symposium
Theme: Sustainability in the Industry 4.0 Economy
Date: June 5, 2019
Place: Richard Ivey Building, Western University, London, Ontario, Canada
(Early Bird Rate Deadline: Apr. 30, 2019; Registration Deadline: May. 31, 2019)
*We have limited space available for exhibitors, please email win4@uwo.ca for more details.
Join us for an exciting day of learning and networking about Canadian and World Industry 4.0 business and technology trends.  Featured speakers include (list in no particular order):
Ruxu Du

Professor

South China University of Technology

 "Resilient Manufacturing System"

Yvon Audette

Partner and National Leader, IT Advisory

KPMG in Canada

 "How Organizations are Doing Industrie 4.0 Today and What can the Future Bring?"

Pratima (Tima) Bansal

Professor

Ivey Business School, Western University

"Sustainable Development in an Age of Disruption"

Darcy Bachert

CEO & Founder

Prolucid Technologies

"Taking an Incremental Approach to Enable IoT"

Xianguo Li

Professor

University of Waterloo

"Fuel Cell as Vehicular Power"

Annie Ross

Professor

Polytechnique Montréal

"Integrated Design and Fabrication of Multifunctional Acoustic Materials"

Ljiljana Stojanovic

Head of Research Group "Smart Factory Systems"

Fraunhofer IOSB

"On the Role of Cognition in Industry 4.0"

James Lee

Director, Innovation Solutions Group

Jones Packaging

"What is Smart and Intelligent Packaging?"

Aldo Petosa

Sr. Research Scientist

The Communications Research Centre Canada (CRC)

"Grand Challenge Research on Sustainable Spectrum Management"

Lijue Xue

Senior Research Officer

National Research Council (NRC) of Canada

"Laser Consolidation – A Novel Metal Additive Manufacturing Technology"

George K. Knopf

Professor

Western University

"Transient Carbon-based Electronic Sensors and Devices"

Yu Zou

Professor

University of Toronto

"The Microscale Interaction Mechanism in Laser-Based Metal Additive Manufacturing and Cold Spray Process: Simulation and Experiment"
This year we are working collaboratively with the Canadian Society of Mechanical Engineering (CSME) and the Computational Fluid Dynamics (CFD) Society of Canada to hold this CSME-CFD and WIN4.0 joint congress. More information about the preliminary program, registration fee and timetable, accommodation recommendations, and traveling advice will be made available on this website as details are confirmed. 
We are looking forward to meeting all of you in June 2019!
For any inquiries about the 3rd Industry 4.0 Symposium, please contact win4@uwo.ca.