Engineering Leadership and Innovation Graduate Diploma

The Graduate Diploma in Engineering Leadership and Innovation provides the opportunity for engineering graduates to further develop professional leadership skills in the context of engineering practice, and to enhance their employability.
Students will develop an entrepreneurial mindset along with leadership skills that are in demand from employers within start-ups, established firms, or the public sector. The ability to cross boundaries towards business and organizational leadership is often seen as helping to accelerate an engineer's career.
2 terms (8 months) for full-time students
Part-time students would be expected to complete the Diploma within three years of starting the program and to register for at least one course every two academic terms, unless permission by the Director of Thompson Centre has been granted.
Applicants must possess a four-year bachelor's degree or equivalent in Engineering or related discipline from an accredited university, with at least a 70% average (North American equivalent) across courses taken in the last two full-time years of the latest degree.
The required documents for admission consideration are:
One official transcript for each degree and/or institution attended, in English.
One official transcript for each degree and/or institution attended in the Native Language (if different from English).
One official certificate of proof of diploma in English.
One official certificate of proof of diploma in the Native Language (if different from English).
Two letters of references (preferably academic).
Proof of Canadian citizenship or Permanent Residency (if applicable).
Work experience is not mandatory, but applicants with work experience are given special consideration.
* Past or current students of Western do not need to provide official copy of Western transcripts. They would need to upload an unofficial Western transcript in the application
Western considers a transcript official only if it is received in a university envelope that is sealed and bears the signature of the University Registrar and be sent directly from the issuing institution. The mailing address is,
School of Graduate and Postdoctoral Studies
International and Graduate Affairs Building, Room 1N07
Western University
1151 Richmond Street
London, Ontario Canada N6A 3K7
Due to COVID-19, electronic transcript submission is acceptable, however, it must be emailed directly to Western from Institution's Registrar Office. The email address to directly submit electronic transcripts is: gradapps@uwo.ca    
Applicants whose first language is not English or have not completed a post-secondary degree from a native-English speaking country, must furnish evidence of their proficiency in the use of the English language by a satisfactory achievement within the last two years in one of the following:
The Test of English as a Foreign Language (TOEFL).The minimum acceptable score is 86, with no individual score below 20 for the internet-based version; 213 for the standard electronic version; or 550 for the paper and pencil version, although some programs require a higher minimum score. [Western's TOEFL ID is 0984].
The International English Language Testing Service (IELTS) of the British Council. Effective to new applications started on or after July 1, 2020, the minimum acceptable score is 6 out of 9 in the individual bands, with an overall score of 6.5 or higher. The IELTS is offered in 6 test centres in the US and 3 in Canada.
Western English Language Centre. Successful completion of the High-Advanced level.
CultureWorks. The requirement is successful completion of the High-Advanced level.
Fanshawe College's ESL Program. The requirement is graduation from Level 10, English for Academic Purposes, with a minimum 80% in all components.
The Michigan English Language Assessment Battery (MELAB) of the University of Michigan. Students must have at least 80 on each of the sections and an overall score of at least 85. Please note: The MELAB is no longer being offered by Michigan Language Assessment. However, Western University will continue to accept MELAB test reports that are newer than two years old as sufficient proof of English language proficiency.
The Canadian Academic English Language Assessment (CAEL Assessment). The minimum acceptable score is 60. The CAEL Assessment is offered in several countries throughout the world as well as Canada.
Domestic student deadlines: November 1 (January start); March 1 (May start); July 1 (September start)
International student deadlines: June 1 (January start); October 1 (May start); February 1 (September start)
Students are required to complete six half-courses; three courses are core (or required courses) and another three courses are electives. Students have the flexibility to pick three elective courses from the entire list of elective courses or they may choose to focus in one area, thereby tailoring depth and breadth to meet their individual learning goals through elective courses.
The program structure is provided below:
Core Courses (required):
ELI 9300 Design Driven Innovation
ELI 9400 Engineering Leadership
ELI 9600 Engineering Communications
Elective Courses (3 courses to choose):
Group A – Leadership Focused
ELI 9110 Risk Assessment & Management
ELI 9001 Business and Management: A Global Perspective
ELI 9200 Project Management
ELI 9700 Transformational Leadership (New)
Group B – Innovation Focused
ELI 9100 Intellectual Property for Engineers
ELI 9105 Commercializing Innovation
ELI 9310 New Venture Creation
The information provides GDIP standalone students and combined MEng & GDIP students with the current plan for offering Engineering Leadership and Innovation Graduate Diploma courses by term.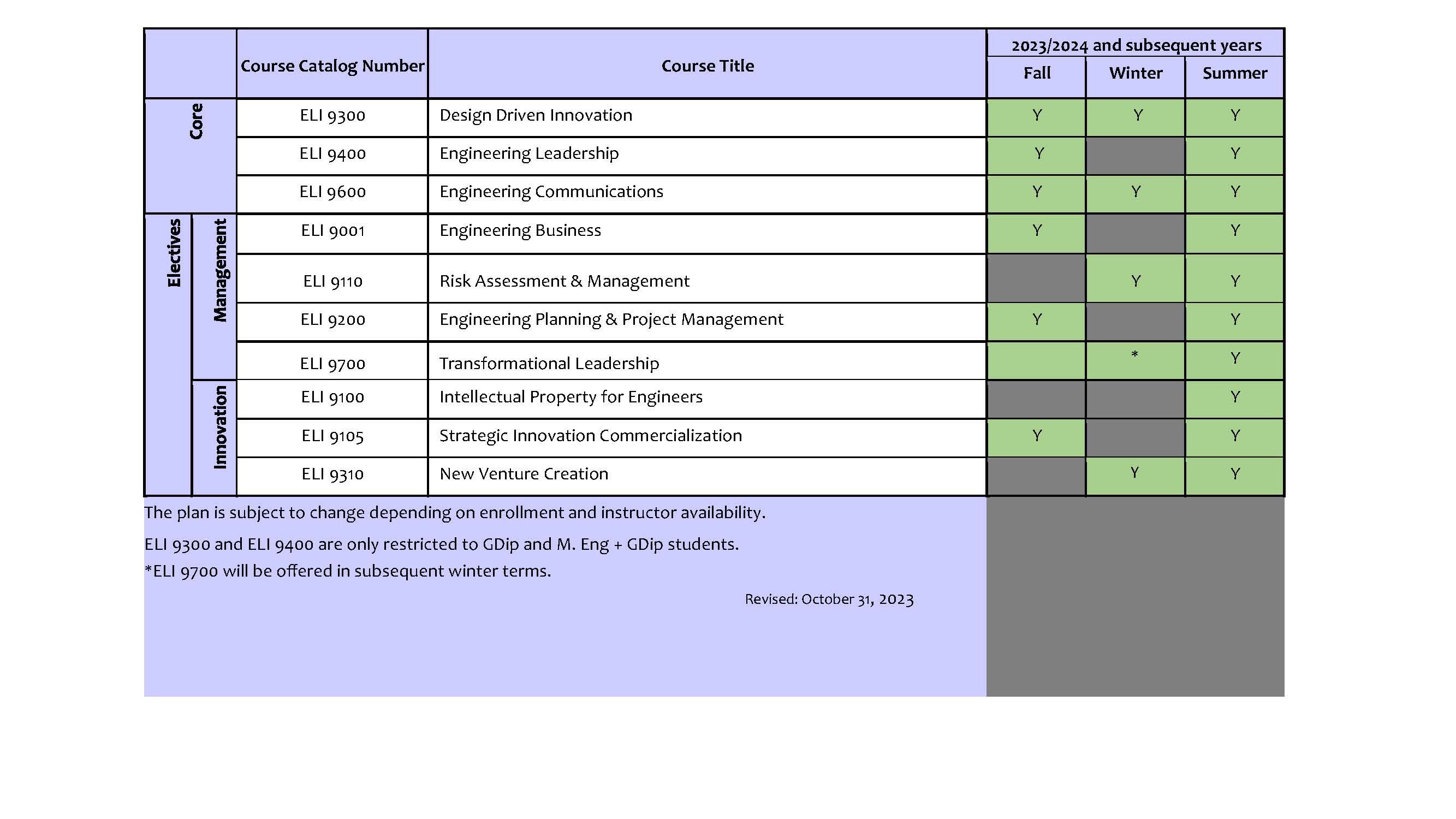 The Faculty of Engineering offers a Combined Master of Engineering (MEng) degree with a Graduate Diploma (GDip) in Engineering Leadership and Innovation. It is a 4-term (16 month) program where registered students concurrently take courses to complete the requirements of both MEng and GDip programs.
Once completed, students receive both the MEng degree and the Graduate Diploma in Engineering Leadership and Innovation. Students registered in any technical field of the MEng program in the Faculty of Engineering may select this option.
TUITION FEE: MEng tuition fees are applied to student accounts three times per year at the beginning of each term (January 1, May 1, September 1). As the Combined MEng-Graduate Diploma program is classed as a four-term graduate program, students will be required to pay tuition for four consecutive academic terms. The per-term rates of tuition for the Combined MEng-Graduate Diploma program are assessed at the same tuition rate as the stand-alone MEng program. To view current graduate program fee schedules, please visit the Office of the Registrar website.
Program Structure (Combined option)
8 technical courses OR 6 technical courses + 1 project (per the MEng program where they are registered)
6 professional courses (3 core courses ELI9300, ELI9400, ELI9600 + 3 ELI elective courses) with registration in these 6 courses as follows:
tABLE
# of Professional Courses
(Core and Elective)
Term 1
1
Term 2
2
Term 3
2
Term 4
1
** If a student elects to apply for the GDip during Term 1, a seat is not guaranteed but the application will be reviewed. Approved late arrivals to the GDip Program would proceed with the alternate GDip enrollment of 2 courses in each of Term 2, 3, and 4.