Artificial Intelligence Systems Engineering
Artificial Intelligence Systems Engineering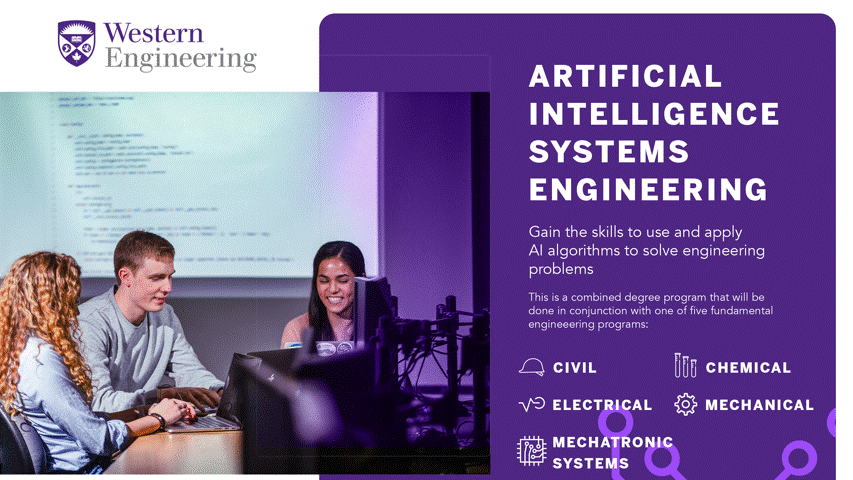 NEW PROGRAM FALL 2022
Western's Artificial Intelligence Systems Engineering (AISE) program is a five year concurrent degree program, that will train today's engineers in the required modern tools to meet increasing employment demands and maximize opportunities for graduates.
Students will be educated in the fundamentals of AI, deep learning, online learning, algorithms, and data structure to solve engineering problems. Through project-based courses and case study methods, they will learn to apply AI to problems and challenges unique to their sectors.
Graduates of the program will understand the characteristic behaviour of AI models and will be capable of providing accountability in professional engineering environments. They will develop advanced skills to ensure their models are understood and deployed safely and responsibly, while also being able to evaluate the applicability of their model's predictions.
AI is finding relevance in all disciplines of engineering. Recent years have seen a rapid evolution of technology and an explosion of new applications and devices that are seamlessly integrated into everyday activities, producing, collecting, and communicating data about people, places, and things.
We are awash in data and faced with the dual challenge of leveraging this data to gain valuable insight while at the same time recognizing and addressing the consequences of doing so.
After completing Western Engineering's Common First Year, you can enroll in the Artificial Intelligence Systems Engineering Program by choosing one of the following options: