Engineering Now .: Volume 4 - Edition 8 .: May and June 2008
Sharon A. Ling honoured at 2008 Awards Celebration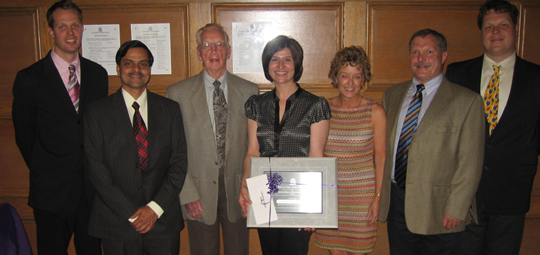 Sandra Vilovski, winner of the Sharon A. Ling Award of Excellence for Outstanding Achievement by a Staff Member, poses with the Ling family (Sharon's husband Bevan, father Jack Atkins and two sons Ethan and Matthew), last year's winner Nina Lowes, and Professor Rajiv Varma.
Western Engineering was honoured to welcome some very special guests to the faculty and staff awards celebration this year. The family of Sharon Ling, a staff member who passed away in January, joined the Western Engineering community on June 4 to be present for the awarding of the Sharon A. Ling Award of Excellence for Outstanding Achievement by a Staff Member. (more)
Concrete Canoe team has good first showing at competition
The Western Engineering Concrete Canoe Association competed in Halifax this month, and came away with very impressive results. (more)


Mechanical & Materials Engineering students win design competition at CSME Forum
A team of Mechanical and Materials Engineering students won the Student Design competition at the Canadian Society for Mechanical Engineers Forum 2008, held in Ottawa on June 5-8. (more)


WEBots team wins second place in Robot Challenge
Western Engineering's Robotics club (WE Bots) finished in 2nd place in this years Autonomous Racing Challenge held on Saturday, April 26. (more)


Western Engineering faculty members receive honour from Canadian Academy of Engineering
Congratulations are due to Professors Jesse Zhu (CBE) and Rajni Patel (ECE), as they have both been inducted into the Canadian Academy of Engineering.


Western Engineering students win Senior Design Competition
Fourth-year Electrical and Computer Engineering students Malgorzata Markowski and Ghazaleh Namavarian, and Mechanical and Material Engineering students Aida Kashigar, David Levin, and Dale Podolsky placed first in a senior design competition in June. (more)


Team of Western Engineering faculty and student win Best Paper Award
Upon recommendation of the technical review committee for the 2nd Canadian Conference on Effective Design of Structures, Yamen I. Elbahy (MESc Candidate), Professor M.A. Youssef, and Professor M. Nehdi were awarded the best paper in the area of Innovative Materials for their paper titled "Flexural Behaviour of Concrete Members Reinforced with Shape Memory Alloys".


Grad students win prize in OCE video competition
Three Western Engineering graduate students were selected as second place winners at this year's Ontario Centres of Excellence (OCE) Discovery video contest, May 12 – 13 in Toronto. (more)


Geotechnical Research Centre hosts first annual Symposium for NAPLs Research and Groundwater Studies
May 2008 saw the Department of Civil & Environmental Engineering's Geotechnical Research Centre host the first Symposium for NAPLs Research & Groundwater Studies (SyNRGS) at Western Engineering on May 27 and 28. (more)


Going to Ghana
International internships and placements are becoming more commonplace these days, and offer Canadian students the opportunity to visit parts of the world they might not otherwise see. (more)


A warm welcome to Rebecca Dashford
Western Engineering is very pleased to announce that effective May 12th, Rebecca Dashford assumed the role of Junior Academic Counsellor in the Undergraduate Services Office. (more)


A warm welcome to Emily Walpole
Western Engineering is pleased to announce that as of Monday, June 23rd Emily Walpole joined the Department of Electrical & Computer Engineering as Undergraduate Assistant. (more)


A warm welcome to Panagiota Karava
As of July 1st, Panagiota Karava joined the Civil & Environmental Engineering department as an Assistant Professor. (more)


A warm welcome to Remus Tutunea-Fatan
As of July 1st, Remus Tutunea-Fatan joined the Mechanical & Materials Engineering department as an Assistant Professor in the area of computer-aided design, computer-aided manufacturing, industrial automation, and mechatronics. (more)


New Acting Chair in the Department of Electrical & Computer Engineering
Dr. Serguei Primak assumed the role of Acting Chair as of July 1, 2008. (more)


Faculty Orientation Day for faculty new to Western
Western's Teaching Support Centre is providing a day of orientation for new faculty members to the University, focused on "Teaching at Western". The event will take place on Thursday, August 7, 2008. (more)


Third Global Congress of Women in Politics and Governance
The Center for Asia-Pacific Women in Politics (CAPWIP) in partnership with the United Nations International Strategy for Disaster Reduction (UN/ISDR) are pleased to invite you to the Third Global Congress of Women in Politics and Governance which will be held on October 19-22, 2008 at the Dusit Hotel, Makati City, Metro Manila, Philippines. (more)


CanQueue 2008, August 28-30, Carleton University, Ottawa
Following the success of nine previous conferences, the 10th CanQueue meeting will be held in Ottawa, August 28-30, 2008. (more)


Symposium for NAPLs Research and Groundwater Studies
Tuesday, May 27 - Wednesday, May 28, 2008


Western Engineering Awards Celebration
Wednesday, June 4, 2008


Mini Baja unveiling and Competition
Saturday, June 7, 2008


Spring Awards Ceremony
Wednesday, June 11, 2008


GRC Awards Ceremony
Thursday, June 26, 2008



Click HERE to view Western Engineering's online calendar. This calendar includes a complete list of Western Engineering's upcoming events and deadlines.

Events are colour-coded as follows:
Grey - Faculty-wide events/deadlines
Purple - Student events/deadlines
Light blue/Teal - Faculty member events/deadlines
Orange - Faculty & Staff events/deadlines
Green - Staff events/deadlines
Yellow - UES Events/Announcements
Pink - Faculty, Staff and Graduate student events/deadlines
Contact
.:Becky Blue
Spencer Engineering Building, Room 2074
Telephone: 519 850-2917 Fax: 519 661-3808 contactWE@eng.uwo.ca
---