Concrete Canoe team has good first showing at competition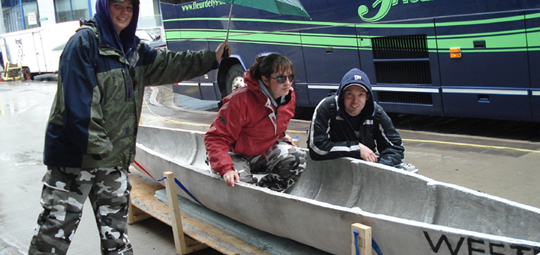 A little bit of rainy weather couldn't stop Western Engineering's Concrete Canoe team from competing in June.
The Western Engineering Concrete Canoe team competed in Halifax this month at the 14th annual Canadian National Concrete Canoe Competition, and came away with very impressive results.

The team won the Best Rookie Team of the Year Award, and also did well in the Final Product category, beating out competitors Queens and Dalhousie. The canoe floated and passed the buoyancy tests with flying colours, but unfortunately poor weather conditions meant the actual races were cancelled for the day.

This year the team's theme of choice was Top Gun, and the canoe was appropriately named the F08 Tomcat.

Western Engineering's Concrete Canoe team is comprised of Adam Crookes, Alexandra Moore, Ben Riddell, Brad McKellar, Chris Blust, Jake Elliott, James Mann, Jeffrey Blaylock, Jonathon Chan, Katie Down, Pauline Sceviour, and Mira Pavan.

The team is viewing this year as a great test run and have high hopes for an even more improved showing next year. Congratulations goes out to all involved for a job well done!
Also from this web page:
Contact
.: Becky Blue
Spencer Engineering Building, Room 2074
Telephone: (519) 850-2917 Fax: (519) 661-3808
contactwe@eng.uwo.ca
---