Engineering Now .: Volume 3 - Edition 10 .: May 2007
Professional Engineers Ontario opens office at Western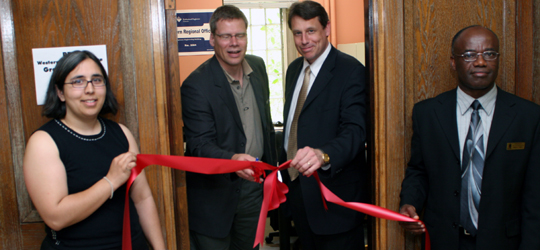 The Professional Engineers Ontario (PEO) Western Regional Office was officially opened Friday, May 25 with a ribbon cutting and reception in the Spencer Engineering Building. Participants of the ribbon cutting include: Anna Sauer, PEO Western Regional Office staff member and Western Engineering graduate student; John Vieth, Western Region Councillor and Regional Coucillors Committee Chair; George Knopf, Acting Dean, Western Engineering; and Ernest Yanful, PEO Western Regional Office Manager and Department Chair, Civil and Environmental Engineering. (more)
Nina Lowes selected as winner of the Engineering Award for Excellence for Outstanding Achievement by a Staff Member
Nina Lowes, Senior Academic Counselor in the Undergraduate Services Office, has been selected as the winner of the Engineering Award for Excellence for Outstanding Achievement by a Staff Member. This annual award honors a staff member's significant contributions to Western Engineering. (more)


Jagath Samarabandu selected as winner of the Engineering Award of Recognition
Jagath Samarabandu, Assistant Professor, Electrical and Computer Engineering, has been selected as the winner of the Engineering Award of Recognition. This annual award recognizes exceptional contributions to the Faculty of Engineering by faculty and/or staff within a particular calendar year. (more)


Hospitality Services Staff of the Leonardo da Vinci Cafeteria selected as winners of the Engineering Award of Recognition by a Non-Engineering Employee
The Hospitality Services Staff of the Leonardo da Vinci Cafeteria, including Gillian Smith, Sally Gillbrook, Cam Lee, Ana Paz, have been selected as the winner of the Engineering Award of Recognition by a Non-Engineering Employee. This annual award recognizes exceptional contributions to the Faculty of Engineering by individuals or teams from outside the Faculty within a particular calendar year. (more)


Greg Kopp, 2007 Faculty Scholar
Established in 2005, the Faculty Scholars Award recognizes significant recent scholarly achievements in teaching or research. Nominated by Faculty deans and selected by the Faculty Selection committee chaired by the Provost, the recipients have an international presence in their discipline and are considered all-round scholars. Greg Kopp, faculty member in the Department of Civil and Environmental Engineering, was recently named as a 2007 Faculty Scholar. (more)


J.M. Floryan elected Fellow of the Canadian Aeronautics and Space Institute
The Canadian Aeronautics and Space Institute (CASI) is a non-profit professional scientific and technical organization devoted to the advancement of the art, science and engineering of aeronautics, astronautics and associated technologies in Canada. Floryan was elected as a Fellow of CASI for his engagement, work and research relating to aeronautics, astronautics, associated technologies over the years. (more)


Western WEBots team finishes first in 2007 Autonomous Racing Challenge
WEBots, the Faculty of Engineering's robotics team, finished first in the 2007 Autonomous Racing Challenge at the University of Waterloo on April 27, 2007. (more)


Students influence Medway Creek bridge design
When completed later this year, the Medway Creek bridge on Western Road south of Windermere, will be a mark of pride for Western's Faculty of Engineering. (more)


Insurance Research Lab for Better Homes receives Award of Merit
The cover building at the Insurance Research Lab for Better Homes was recognized Wednesday, May 16 in Toronto during the Ontario Region of the Canadian Institute for Steel Construction awards reception. The facility was awarded an "Award of Merit" in the "Engineering" category. (more)


Katie Reipas, recipient of the 2006-07 CISC Ontario Region Steel Design Fellowship at Western
Katie Reipas, a third-year Western Civil Engineering student, is the recipient of the 2006-07 Canadian Institute for Steel Construction Ontario Region Steel Design Fellowship at Western. The first female student from Western to win the scholarship, Reipas will receive a cash award of $2000.


Civil and Environmental Engineering PhD candidate, M. Shahria Alam, receives the Award for Research Excellence from The Society of Graduate Students
The Society of Graduate Students has conferred upon Civil and Environmental Engineering PhD candidate, M. Shahria Alam, The Award for Research Excellence for his second place oral presentation of "Development of a Smart RC Building Utilizing Superelastic Shape Memory Alloys" in the Physical Sciences Session, given at the 20th Annual Western Research Forum on May 9 -11, 2007. Alam's supervisors are M. Nehdi and M.A. Youssef.


Khaled Al-Aribe, George K. Knopf, and Amarjeet S. Bassi, winners of the 2006 SPIE Optmechatronics - Best Paper Award
SPIE, an international society advancing an interdisciplinary approach to the science and application of light, has recognized the paper "Optomechatronic Actuators and Manipulation" written by Khaled Al-Aribe, George K. Knopf, and Amarjeet S. Bassi with the Best Paper Award.


Science of small earns major prize
Going green, and small, is the thrust of the research of Chemical and Biochemical Engineering Professor Paul Charpentier. Recently honoured with the university's Petro-Canada Young Innovators Award, Charpentier's main area of study is in developing new "green nanotechnologies" for environmentally friendly and alternative energy applications. (more)


Six new Canada Research Chairs for Western
One of the nation's top research awards was bestowed upon six new Canada Research Chairs (CRC) from Western during the program's larger national announcement held at the university Wednesday, May 23. Recruited from the United Kingdom, Western engineering professor Jason Gerhard is developing technologies that will be used to restore sites contaminated by toxic industrial pollutants. As Tier Two CRC in Geo-environmental Restoration Engineering, his work will enable cost-efficient redevelopment of Ontario brownfield sites and restore high quality groundwater for consumption, energy and agriculture. (more)


Brace for dire floods, scientist warns
London Free Press Article
The worst flood in London's history will be eclipsed as global warming causes the Thames River to breach its banks more often and severely, a scientist projects. Slobodan Simonovic, who directs Western's Institute for Catastrophic Loss Reduction, has completed a study of the Thames that predicts future floods will be worse than the great flood of 1937, which left thousands of Londoners homeless and a rescue worker dead. (more)


City reviews flood rules
London Free Press Article
City politicians who want to further limit development along the Thames River say their case has been buttressed by a study that predicts more severe flooding. (more)


Insulin inhaler created to treat diabetes
London Free Press Article
The birthplace of insulin, London could also become the birthplace of a revolutionary new way to deliver insulin to people with diabetes. It was in London that Frederick Banting conceived the idea to isolate insulin from the pancreas, providing a lifeline to millions of diabetics and winning him international fame and a Nobel Prize. Today, one University of Western Ontario professor and medical researcher, Dr. Jesse Zhu, and 20 graduate students and other senior researchers, hope to take Banting's technology into the 21st century. (more)


Renovation Update
The Spencer Engineering Building and Thompson Engineering Building will continue to be renovated this summer. Click here for a renovation update from Mike Gaylard, Western Engineering's Facilities Manager.


May is Leave-a-Legacy Month
Memories of Craig O'Hagan, BESc. 96, inspired alumni Jeff and Tara O'Hagan to create a legacy for tomorrow at Western. To read more about their story go to http://www.givingtowestern.uwo.ca/profiles/OHaganlegacy.htm. If you would like more information on how you can create a legacy at Western via a bequest in a will, a gift of life insurance or a charitable gift annuity contact Virginia Daugharty, Development Officer, Engineering (519)-661-4209 / vdaughar@uwo.ca.


Western Engineering welcomes Martha Fediw, Western Engineering's new Research & Graduate Manager
Martha Fediw recently joined the External Services unit as the Research & Graduate Manager in the Faculty of Engineering. This is a brand new position and Martha will be reporting directly to the Associate Dean, Research & External Relations, Dr. El Naggar. (more)


Western Engineering congratulates Ian Robertson, new Financial/Stores Assistant
Ian Robertson has accepted the one year contract position as Financial / Stores Assistant, effective May 1 in Western Engineering's Financial Services Department. Many of you have become familiar with him as he worked with Financial Services for the past 3 + years as a student assistant.

Financial Services is going through a transitioning period in terms of service automation, workload increases due to Faculty growth and efficiency projects. Ian will be involved with these initiatives while supporting Financial Services with their daily operations. Ian can be reached at ext. 88645.


Western Engineering says farewell to...
Debra Martin, Administrative Assistant for the Geotechnical Research Centre, Department of Civil & Environmental Engineering, who has accepted a new position at the Schulich School of Medicine and Dentistry in the Department of Psychiatry.

Jean Wordley, Undergraduate Assistant for the Department of Chemical & Biochemical Engineering, who has accepted a position in the Bachelor of Health Sciences program, Faculty of Health Sciences.

Roi Gurka, faculty member in the Department of Mechanical & Materials Engineering


Ontario Centre of Excellence, Discovery 2007
May 1, 2007


Epic Pull Official Unveiling
May 11, 2007


Professional Engineers Ontario opens new location at Western
May 25, 2007



Click HERE to view Western Engineering's online calendar. This calendar includes a complete list of Western Engineering's upcoming events and deadlines.

Events are colour-coded as follows:
Grey - Faculty-wide events/deadlines
Purple - Student events/deadlines
Light blue/Teal - Faculty member events/deadlines
Orange - Faculty & Staff events/deadlines
Green - Staff events/deadlines
Yellow - UES Events/Announcements
Pink - Faculty, Staff and Graduate student events/deadlines
Contact
.:Allison Stevenson
Spencer Engineering Building, Room 2074
Telephone: 519 850-2917 Fax: 519 661-3808 contactWE@eng.uwo.ca
---