Jagath Samarabandu selected as winner of the Engineering Award of Recognition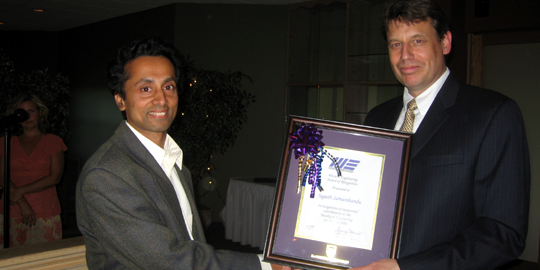 Jagath Samarabandu, Assistant Professor, Electrical and Computer Engineering, has been selected as the winner of the Engineering Award of Recognition. This annual award recognizes exceptional contributions to the Faculty of Engineering by faculty and/or staff within a particular calendar year.

Samarabandu was nominated for his outstanding contribution to the development of a web-based tool for managing curriculum development and accreditation. During the preparation for the CEAB accreditation, the developed tool helped in the enormous data collection problem faced by all Departments.

Samarabandu took the initiative to develop the Western Curriculum Database (http://academic.eng.uwo.ca/ceab) to facilitate easy generation of reports for the CEAB accreditation visit. This work began in January 2005 and resulted in a very comprehensive web-based tool for curriculum management. He took all aspects of this work upon himself including the purchase of a computer, software installation and setting up the web and database servers without burdening Engineering IT services. It was developed to not only serve a very useful purpose, but also to showcase the quality of advanced open source technologies.

Samarabandu has spent over 300 hours in designing, implementing, testing, deploying, maintaining and supporting this enormous task and has taken the entire burden of training and helping the administrative staff as well as faculty members in all Departments to ensure the generation of consistent reports for CEAB. His work solved the major task of keeping all information up to date as well as providing appropriate levels of access to data for all participants.

A primary feature of Samarabandu's work is the ability for each instructor to enter data for his or her courses as well as the ability for administrative staff to manage Department or Faculty wide data. This tool will be extremely useful in the coming years to not only plan and manage curricula, but he is planning to utilize the data to provide comprehensive on line access to all programs for the students as well. This will provide up-to-date information about programs, courses and instructors that will not only showcase Western Engineering, but also using information technology to provide a better student experience.

Samarabandu has also carried out his regular teaching, research and service duties, plus he has been instrumental in creating the Electrical and Computer Engineering website and has continually helped improve it to facilitate publicizing the Department activities online. He is also serving in our Appointments Committee and is heavily involved in the curriculum modernization effort of the software engineering and computer engineering programs.

Samarabandu received several strong letters from faculty and staff to support his nomination for this award. The many contributions that Samarabandu has made to the Faculty of Engineering make him a very deserving recipient of the Engineering Award of Recognition this year.
Also from this web page:
Contact
.: Allison Stevenson
Spencer Engineering Building, Room 2074
Telephone: (519) 850-2917 Fax: (519) 661-3808
contactwe@eng.uwo.ca
---