Engineering Now .: Volume 2 - Edition 11 .: May 26, 2006
Golf FORE fun – and FORE a Cause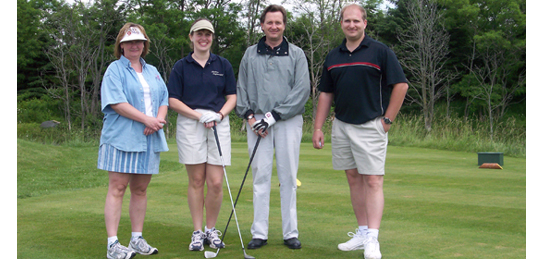 The nice weather has finally arrived. Campus is starting to quiet down. This must mean summer is on its way.

Now is the perfect time to tackle your extra long "To Do List" you accumulated during the academic year. It is also the perfect time to enjoy the outdoors with fellow Western Engineering faculty, staff and students at Western Engineering's 11th annual Golf Retreat. (more)
Two students receive CME scholarships
CME scholarships are awarded annually to students who are completing a 12 to 16 month industry internship in the manufacturing sector, and entering their final year of studies. Last year was the first year CME scholarships were awarded to Western Engineering students. In its inaugural year, only one scholarship was awarded. Now, in its second year at Western Engineering, CME scholarships have been awarded to two students: Miranda Restorick and Matthew Hessel. (more)


Virtual Reality research makes the Charlie Thompson Scientific Achievement Award a reality for Dr. Sumit Agrawal – twice!
Dr. Sumit Agrawal, Chief Surgical Resident in the Department of Otolaryngology at Western, was awarded the 2006 Charlie Thompson Scientific Achievement Award for his research paper entitled "3-D Endoscopy of the External Auditory Canal: A Step Towards Virtual Reality." (more)


Western WEBots team takes third in 2006 Autonomous Racing Challenge, robotics competition
The Faculty of Engineering's new robotics team, WEBots, placed third at the 2006 Autonomous Racing Challenge at the University of Waterloo in late April. (more)


Two students make up Meds/Engineering Class of 2006
Brent Lanting and Joe Barfett had a little extra to celebrate at the convocation of 134 new doctors from the Schulich School of Medicine & Dentistry. The pair are the first graduates from the Meds/Engineering Class of 2006 - a seven-year concurrent degree program designed to ensure future physicians keep pace with biomedical technology and technical advancements in health care. (more)

Click here to read the London Free Press article about Western's first graduates from a combined engineering and medicine program...


Three Little Pigs - article from The London Free Press, May 15, 2006
Dissecting how buildings are destroyed and damaged by wind, rain and snow so they can be better built is the focus of a $7-million research project at the University of Western Ontario. (more)


Hydro, Western power students hook up - article from The London Free Press, May 5, 2006
London Hydro is collaborating with the engineering department at the University of Western Ontario to the tune of $125,000. (more)


Elementary students discover engineering
Elementary schools are winding down for the 2005-06 school year. Teachers are completing class assignments and planning end of year parties, trips and fun class projects. The University of Western Ontario's student run organization, Discovery Western (DW), makes their planning a little bit easier by offering fun and informative workshops to encourage students to explore the realms of engineering, science and technology. (more)


Vivian Feng – New Engineering Librarian
Vivian Feng, the new Western Engineering Librarian, joined the Allyn and Betty Taylor Library on April 10, 2006. She comes to Western from the Integrated Manufacturing Technologies Institute's (IMTI) branch of CISTI, the NRC's library, where she provided a wide range of information services to the researchers and their students. (more)


Get ready for 10-digit dialing
Our fingers need to get ready for some extra work when making a local phone call. Welcome to the world of 10-digit dialing. 10-digit dialing becomes a reality on June 17. All local calls %u2013 except campus extensions calls -- will require the 519 area code. (more)


Western News now available online
For the first time Western News is providing online access to the entire newspaper. (more)


Western's building boom benefits Londoners
Western's Provost and Vice-President (Academic), Fred Longstaffe, explains some of the details behind the university's $230-million Long-Range Space Plan - including plans for the new Bio-Engineering Building. (more)


Tiger Direct Representative
To receive a discount (approx 7%) for Tiger Direct orders please contact Kyle Huggins (see below for contact information) and he will fax you a quotation.

Please complete a Request to Purchase Form (see attachment) and forward the form and quotation to EFS Stores, SEB14 for processing. The discounted price is not available on the Web site.

Kyle Huggins contact information
Phone Number: (905) 305-4848
Fax Number: (905) 477-8459
Email Address: Kyle.Huggins@tigerdirect.ca

Please contact Katherine Manweiler, x88333 if you have any questions.


Farewell...
Western Engineering extends best wishes to Anita Lowry, Western Engineering's Coordinator, Faculty & Staff Relations. Anita will be leaving Western Engineering to assume the position of Finance Officer in the Faculty of Law. Her last day with Western Engineering will be June 3.
Faculty/Supervisor Responsibilities Seminar
Wednesday, May 31 .: 1:00 pm - 3:30 pm .: SEB 3109


Smart Radio Challenge '07
Deadline to apply: May 30, 2006


Science Exhibition 2009 - Call for Science Proposals
Deadline to apply: May 30, 2006


Engineering Librarian On-Site
Starting June 1 - Every Thursday from 1:00 pm -2:00 pm in SEB 2083


Golf Retreat
Friday, June 9 .: 10:00 am .: Echo Valley .: Silent Auction with proceeds to Discovery Western & Engineers Without Borders
Sign-up with Sue Chapman or Stephen Mallinson before June 1


Global Forum for Health Research Essay Contest
Deadline to submit entries: Thursday, June 1


Engineering Student Societies' Council of Ontario - Annual General Meeting
Thursday, June 8 - Sunday, June 11


June Summer BBQ
Tuesday, June 6 .: 12:00 pm - 1:30 pm .: Outside SEB 1059


Distinguished University Professor Awards Lecture - Dr. Rajni Patel
Tuesday, June 6 .: 4:00 pm .: Conron Hall, University College


Spring Convocation
Wednesday, June 14 .: 3:30 pm .: Alumni Hall


Engineering Awards Dinner
Thursday, June 15 .: Westhaven Golf & Country Club .: Cocktails - 6:30 pm .: Dinner - 7:15 pm
RSVP to Sue Chapman
Contact
.:Allison Stevenson
Spencer Engineering Building, Room 2074
Telephone: 519 850-2917 Fax: 519 661-3808 contactWEATeng.uwo.ca
---