Vivian Feng – New Engineering Librarian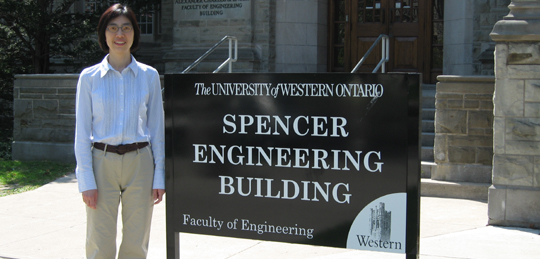 Vivian Feng, the new Western Engineering Librarian, joined the Allyn and Betty Taylor Library on April 10, 2006. She comes to Western from the Integrated Manufacturing Technologies Institute's (IMTI) branch of CISTI, the NRC's library, where she provided a wide range of information services to the researchers and their students.

Vivian is taking over from David Fiander, who is moving on to other responsibilities within Western Libraries. Vivian is looking forward to working closely with faculty members, graduate and undergraduate students, and researchers in Western Engineering.

Vivian's responsibilities include collecting materials to support research, teaching and course work needs. She will also be developing and delivering seminars for undergraduates and graduates, to help them learn how to use the library's extensive collections of print and online engineering information.

Vivian will be available for one-on-one instruction, and to discuss research strategies and library resources on a specific research topic.

"Since Taylor Library and the Spencer Engineering Building are like sitting on two opposite ends of campus, library services are not easily accessible for the faculty and students," Vivian explains. "In order to reach out to the faculty and students and provide on-site research support/consultation, I will be coming to the Engineering Building every week From June 1 to the end of July, I will be in Room 2083 every Thursday from 1:00 to 2:00 pm."

Vivian's office is in Taylor Library and she can be reached at 86217 or via mfeng8@uwo.ca.
Also from this web page:
Contact
.: Allison Stevenson
Spencer Engineering Building, Room 2074
Telephone: 519 850-2917 Fax: 519 661-3808
contactweATeng.uwo.ca
---