The Gambia

May – August 2011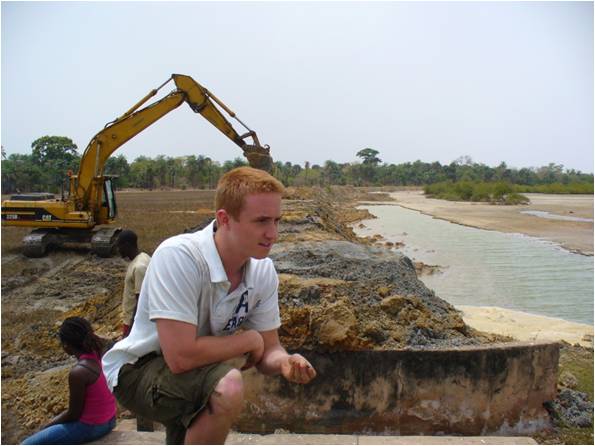 above: John Iezzi working hard on a dike system in the village of Brefet (2011).
During the summer, John Iezzi, Yena Ahadzie and Dan Hyland volunteered their time in The Gambia, West Africa. While there, they gained lots of hands on engineering experience as they had the opportunity to work with both the Gambian Ministry of Agriculture and GAM-Solar Energy & Engineering. Over their time with the Ministry of Agriculture, the three students worked specifically in the Soil and Water Management Services section of the MoA and had the opportunity to get involved with the various projects (mainly, PIWAMP and GALDEP) which concentrated on the construction of dike/spillway systems, runoff diversion bunds, access roads and bridges and tidal irrigation systems. Throughout the internship, the students main many contributions and suggestions to improve some aspects of these project, they were compiled and submitted to the Ministry in a final report. While with GAM-Solar, the students gained an understanding of solar energy and its beneficial use in Africa (and around the world). They had the chance to go out to villages around the country to perform surveys and select the required equipment that would provide enough power for the area Also, they were involved in many solar water pumping projects.

May – August 2009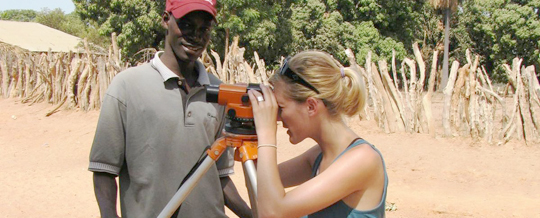 above: Lindsay Christink surveying for a watershed project in The Gambia (2009).
Three students (Adam Crookes, Lindsay Christink, Jordon Atherton) worked with Soil and Water Management Services (SWMS) of the Gambian Ministry of Agriculture on participatory watershed management approaches. The other two students (Justin Phillipi and Megan Moore) worked with the Sanyang Community Garden and Concern International on hand pump redesign and sustainable agriculture. The five students also participated in courses run by the West African Community Development Training Centre (WACD-TC) from 8 – 26 June. This adult learning centre gave the students the opportunity to work in small groups with locals and learn formally about the cultural differences between The Gambia and Canada and methods for effectively interacting and working with the local organizations.
Also from this web page:
Welcome!

Follow us on Facebook!
Upcoming Events
This Month
---
CIDA International Development Week, February 5-11
---
Next Month
---
WEAID Awareness Night, March 8, The Wave, 6-8pm
---
Contact Us
Western Engineering Association for International Development
T: 5190-661-2111 ext. 80974
E: weaid@uwo.ca