Engineering Now .: Volume 3 - Edition 11 .: Summer Edition 2007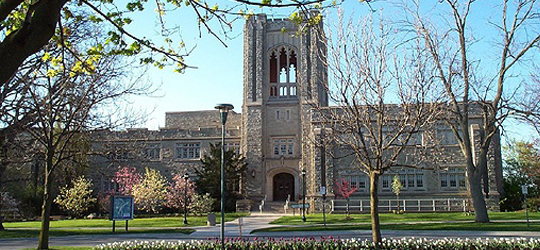 The Canadian Engineering Accreditation Board (CEAB) reviewed Western Engineering's undergraduate programs including: Chemical Engineering, Civil Engineering, Computer Engineering, Electrical Engineering, Integrated Engineering, Mechanical Engineering and Software Engineering, for accreditation last fall. The results are in; all seven undergraduate programs received the maximum possible accreditation of six years to June 30, 2013. (more)
GRC Awards
Four awards were presented to six students at the GRC Awards Ceremony held on Wednesday, July 11, 2007. (more)


Jesse Zhu receives 2007 Bantrel Award in Design and Industrial Practice
Awarded by the Canadian Society of Chemical Engineering, the Bantrel Award in Design and Industrial Practice is given to a Canadian citizen or a resident of Canada for innovative design or production activities accomplished in Canada. (more)


Erin Cullen pushes for more female engineers
The winner of a prestigious masters scholarship, Cullen she is keen to encourage more young women to consider a career in the mainly male-dominated field of engineering. (more)


2007 Baja SAE Rochester Institute of Technology Competition
Total number of teams: 141
Western Engineering's standings:
Overall ranking: 61st
Design: 117th
Cost: 100th
Acceleration: 82nd
Land Maneuverability: 67th
Hill Climb: 44th
Suspension and Traction: 71st
Endurance: 50th

A detailed recap of the competition can be found at http://www.eng.uwo.ca/minibaja/files/recap07.pdf.


Mr. Shohan Ahmad, PhD candidate in the Department of Civil and Environmental Engineering receives Canadian Society for Civil Engineering Hydrotechnical Division Award
Mr. Shohan Ahmad, PhD candidate in the Department of Civil and Environmental Engineering, advised by Professor S.P. Simonovic, has been awarded the Canadian Society for Civil Engineering (CSCE) Hydrotechnical Division Award. This is a national award for the best MSc thesis. Shohan and his thesis, Spatial risk assessment for water resources decision making, will be presented with this award at the 18th Hydrotechnical Specialty Conference, being held in Winnipeg from August 22-24, 2007.


Mark Weiner, BESc '91 joins Exanet executive team
Clustered NAS solution provider Exanet has appointed storage industry stalwart Mark Weiner, BESc '91, to its executive team. Weiner joins Exanet from StoreAge Networking Technologies where as Executive Chairman he managed its successful acquisition by LSI Logic. Prior to that, Weiner was Vice President of Western EMEA at Netwrok Appliance building a $200M business from scratch. He was one of their longest serving executives.


Western Engineering alumnus awarded $20,000 Action Canada Fellowship
Seventeen exceptional Canadians, including University of Western Ontario Engineering alumnus Benjamin Fine, are the new 2007/2008 Action Canada Fellows. (more)


Bugs, Clean Water and 'Green Products': Environment and Climate Change Research Leads Way for New Funding
Projects related to The University of Western Ontario's growing strengths in environmental and climate change research led the way for $1.6 million in new funding announced June 11, 2007. Western Engineering professors, Madhumita Ray (Chemical & Biochemical Engineering), Jun Yang (Mechanical & Materials Engineering), and Abdallah Shami (Electrical & Computer Engineering) received funding through the Canada Foundation for Innovation's (CFI) Leaders Opportunity Fund. (more)


McGuinty government backs 'green' building
The Ontario government will provide $6.7 million to support research at the Faculty of Engineering's new green energy building – the Claudette MacKay-Lassonde Pavilion. (more)


Western Engineering goes 'green' in Ghana
Engineering students continue to think green with their research, class projects and extracurricular activities – and faculty is also leading environmental pursuits. Ernest Yanful, Department Chair of Civil and Environmental Engineering, co-organized the first International Conference on Environmental Research, Technology and Policy (ERTEP 2007) in Accra, Ghana, from July 16 to 19. (more)


It Will Take More Than a Wolf to Blow One House Down
New York Times Article
The hurricane season is now well under way, and as the buffer of El Niņo rapidly retreats, the forecast is looking windy, with an estimated 17 "named storms" on the horizon of the Atlantic basin. (more)


Robots in medicine - Dr. Rajni Patel aims to bring a sense of touch to robot surgeons
CBC News Website
Robotic technology has been used in the health-care sector for several years, both to help surgeons operate more efficiently and to allow doctors to check in on their patients even when they are kilometres apart. (more)


University successful in Workwell Audit
Western has received a passing grade following a recent Workwell Audit conducted by the Workplace Health and Safety Insurance Board (WSIB). (more)


Western Engineering welcomes Shaun Salisbury, joining the Mechanical & Materials Engineering and the Electrical & Computer Engineering departments on a joint appointment as an Assistant Professor
Shaun comes to us from the University of Toronto where he has just completed his PhD in Mechanical Engineering. He received his BSc in Mechanical Engineering form the University of Waterloo in 1995. He has nine years of experience working in industry on the design, manufacturing and implementation of MEMS-type devices. His PhD studies have been supported through NSERC scholarships and he has three published journal papers. Shaun also has a few years of university teaching experience, including being head instructor in a mechatronics course at The University of Toronto.


Western Engineering welcomes Jason Gerhard, joining the Civil & Environmental Engineering department as a probationary Associate Professor with a Tier 2 Canada Research Chair in Geoenvironmental Restoration Engineering
Jason comes to us from the University of Edinburgh in Scotland where he has established himself as a strong researcher with key industrial collaborations. He received his Honours BSc in Geotechnical Engineering (1993), his MSc in Civil Engineering (1995), and his PhD in Civil Engineering (2002) from Queen's University. Jason's expertise includes both laboratory research of fundamental physiochemical processes and numerical model development and application for studying practical geoengineering problems. In addition, Jason is a licensed professional engineer (Ontario) who regularly acts as an expert consultant for industry. He has published numerous substantial manuscripts in leading journals. External recognition includes his recent appointment as an Associate Editor for Water Resources Research.


Western Engineering welcomes Andrea Hufford, joining the Undergraduate Services Office as Counseling Assistant
Andrea will be filling in for Erin Chute who is going on maternity leave later in August. Andrea has extensive administrative and customer service experience from her previous positions at the London Unemployment Help Centre, Parkinson Society Canada and Youth Opportunities Unlimited. She received her Bachelor of Arts degree in Psychology in 2002 from The University of Western Ontario.


Western Engineering "officially" welcomes Marilyn Tudhope, assuming the full-time continuing role of Undergraduate Assistant in the Department of Chemical & Biochemical Engineering
Marilyn has been working in this position on a temporary basis since April of this year. Prior to assuming this role, Marilyn worked as a Program Assistant for Western's Continuing Studies program on a temporary assignment, as well as at the Toronto District School Board (Yorkdale Adult Learning Centre) as an Administrative Assistant (Head Secretary) for sixteen years. Marilyn received her Developmental Social Worker Diploma from Georgian College in 1985.


Lonnie Wickman appointed to the Administrative Staff Pension Board
Lonnie Wickman, Western Engineering's Director, Financial Services, has been appointed to the Administrative Staff Pension Board for a four-year term, starting July 1st, 2007.


Western Engineering Faculty and Staff Awards Dinner
June 5, 2007


GRC Awards
July 11, 2007



Click HERE to view Western Engineering's online calendar. This calendar includes a complete list of Western Engineering's upcoming events and deadlines.

Events are colour-coded as follows:
Grey - Faculty-wide events/deadlines
Purple - Student events/deadlines
Light blue/Teal - Faculty member events/deadlines
Orange - Faculty & Staff events/deadlines
Green - Staff events/deadlines
Yellow - UES Events/Announcements
Pink - Faculty, Staff and Graduate student events/deadlines
Contact
.:Allison Stevenson
Spencer Engineering Building, Room 2074
Telephone: 519 850-2917 Fax: 519 661-3808 contactWE@eng.uwo.ca
---