Engineering Now :: Volume 5 - Edition 4:: January 2009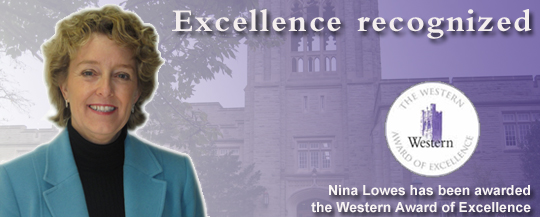 Engineering went all the way for United Way
Western Engineering was hoping to raise a total of $12,000 for the recent United Way campaign. The results are in and WE contributed $12,607 or 105% of its goal! "In such difficult economic times, it is important that we all contribute to the well being of our community and Engineering has been very successful at doing so," says professor Jan Shepherd McKee, Engineering Representative to the United Way . Click here to read about the University's record breaking year.


Western Innovation Fund - September 2008 Competition
Five Western research projects, including two from Western Engineering, are a step closer toward commercialization following awards from the Western Innovation Fund. Engineering researchers, Dimitre Karamanev and Jin Zhang will receive funding. (more)


Western Engineering student wins prestigious Rhodes Scholarship
One of the last things Brian Coulter, a concurrent Engineering/Ivey student, ever thought possible was being mentioned alongside the likes of Bill Clinton, Edwin Hubble, James Fulbright and Bob Rae. (more)


Nabin Chowdhury and Behnaz Hojjati awarded for their achievements with Ross and Jean Clark Scholarships
The Ross and Jean Clark Scholarships are available to graduate students studying to obtain MESc and PhD degrees with a focus on topics relevant to Environmental Engineering. Chowdhury and Hojjati, PhD candidates in Western Engineering, are the newest recipients of the Ross and Jean Clark Scholarships. (more)


Anand Prakash awarded an NSERC I2I
Prakash received an NSERC I2I, in the amount of $124,500, to develop a prototype of a unit which will utilize ultrasonics for online monitoring of particle size distribution. The need for such a device has been identified in pharmaceutical industry, food processing, mineral processing as well some areas of renewable fuels industry. (more)


Rajni Patel Receives IEEE Canada Outstanding Engineer Award
Rajni Patel, Professor in the Department of Electrical and Computer Engineering, has received the prestigious 2009 IEEE Canada Outstanding Engineer Award. Recipients of this medal are outstanding Canadian engineers recognized for their important contributions to Electrical and Electronics Engineering. The Award was established in 1994. (more)


Green building living, breathing classroom
While it may be made of steel and concrete, the Claudette MacKay-Lassonde Pavilion - a.k.a the Green building - will in fact become a living and breathing entity that will present researchers with more data than they know what to do with. (more)


New green program for Engineering
Western Engineering has added an eighth program to its undergraduate engineering curriculum. The new program, Green Process Engineering (starting in September 2009), will combine and integrate the fundamental principles of chemical engineering to design commercial products and processes that are safe, economical and environmentally friendly. (more)


Western announces new President
The new president of The University of Western Ontario is a dynamic and gifted academic leader committed to taking Western to the next level in terms of internationally recognized excellence in research and education. Amit Chakma will begin serving a five-year term as Western's president on July 1, 2009, succeeding Paul Davenport who will complete 15 years of service on June 30, 2009. (more)


Western Engineering Welcomes…
Western Engineering welcomes three new members - Wenxing Zhou, Civil & Environmenal Engineering; Ilia Polushin, Electrical & Computer Engineering; and Luis Solano-Flores, Chemical & Biochemical Engineering. (more)



Click HERE to view Western Engineering's online calendar. This calendar includes a complete list of Western Engineering's upcoming events and deadlines.

Events are colour-coded as follows:
Grey - Faculty-wide events/deadlines
Purple - Student events/deadlines
Light blue/Teal - Faculty member events/deadlines
Orange - Faculty & Staff events/deadlines
Green - Staff events/deadlines
Yellow - UES Events/Announcements
Pink - Faculty, Staff and Graduate student events/deadlines
Alumni Hockey Reception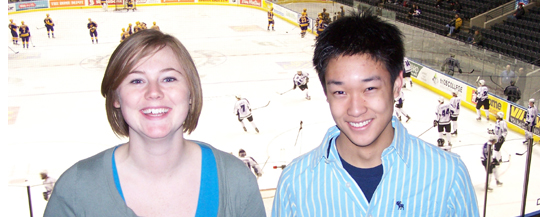 A group of Western Engineering alumni, faculty, staff and students attended the Western Mustangs VS Wilfred Laurier Golden Hawks hockey game at the John Labatt Centre on Saturday, January 24, 2009. The Western Mustangs won the second annual Jack Frost Cup with a 5-4 victory. Seen here is the outgoing UES President, Sarah Patterson with the incoming Co-President, Brandon Lyn. Brandon's co-president will be Andrea Sylvester.
Contact
.: Allison Stevenson
Spencer Engineering Building, Room 2074
Phone: 519 850-2917 Fax: 519 661-3808 contactWE@eng.uwo.ca
---