Nabin Chowdhury and Behnaz Hojjati awarded for their achievements with Ross and Jean Clark Scholarships
By Nancy Quaegebeur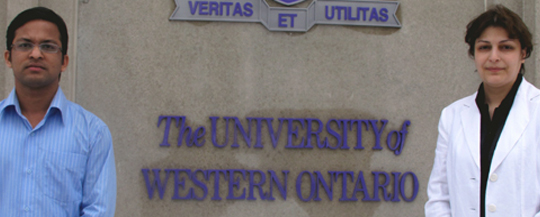 The Ross and Jean Clark Scholarships are available to graduate students studying to obtain MESc and PhD degrees with a focus on topics relevant to Environmental Engineering. In order to qualify, students must have been registered for at least one year of study and are continuing until at least Spring 2009.

Nabin Chowdhury and Behnaz Hojjati, PhD candidates in Western Engineering, are the newest recipients of the Ross and Jean Clark Scholarships.

Nabin Chowdhury is currently working on his PhD in the Department of Civil and Environmental Engineering under the supervision of Dr. George Nakhla and Dr. Jesse Zhu developing a novel technology called "Liquid-solid Circulating Fluidized Bed Bioreactor for Biological Nutrient Removal from Wastewater." The hope is that someday this technology will assist small communities, industries and the world in providing innovative cost effective pollution control.

Behnaz Hojjati is in the process of completing his PhD in the Chemical Engineering Department, working on a project called the "Synthesis of nanocomposites via RAFT polymerization." The goal of this project is to increase the understanding and utilization of solar energy.

The Ross and Jean Clark Scholarships are generously donated by Ross (BESc '46, MEng '75) and Jean (BA '46) Clark to assist graduate students specializing in Environmental Engineering in the Faculty of Engineering at Western.
Also from this web page:
Contact
.: Allison Stevenson
Spencer Engineering Building, Room 2074
Phone: (519) 850-2917 Fax: (519) 661-3808
contactwe@eng.uwo.ca
---