Alumni - 2010/2011
Accomplishments
The 2010-2011 club built upon the successes of the previous year with the hosting of the first ever Professor Roast for Western's Chemical and Biochemical Department. Faculty, staff and undergraduates & graduate students enjoyed food and entertainment with new found celebrities Jeremy Chad and Andrew Belletti stealing the spotlight. Below are a couple of the highlights from the evening:
http://www.youtube.com/watch?v=1vRVm37H5t4
http://www.youtube.com/watch?v=ARnupqGSEYA&feature=related
http://www.youtube.com/watch?v=lefvFWvrej0

The club also hosted its first ever Exploring Chemical Engineering Career Night with speakers Pat McNally and western alumnus James Afara. Progress continued on the club's Megaproject: Production of Biodiesel from Microalgae, with 5 teams and 56 members involved in different areas of the project. The club raised a record $8000 in funding through both the student engagement and project fund, while capping off the year by winning the CSChE Student Chapter Merit Award. This award was in recognition of the club's initiative and originality in Student Chapter programming and a plaque was presented to the club at the 2011 CSChE conference held in London.
Events and Changes
Production of Biodiesel from Microalgae MegaProject: 5 Teams

Transesterification
Extraction and Separation
Instrumentation
Strain Optimization
Containment

First Exploring Chemical Engineering Career Night
Started development on Chemical Engineering Case Competition for 2011-2012 year
Attended Department and Strategic Planning Meetings with faculty and department chair
Joint hosted with the Environmental Science Association the Film Screening of "Land of Destiny" by Brett Story
Completed nomination and awarding of the Maurice Bourgougnou award
Palasad bowling and wings night
Release of 2nd edition of the Chemical Engineering Exchanger Newsletter
Participated in National Engineering Week at the London's Children's Museum
Helped plan and host Fall and March Break Open House
Executives
President: P.J. Dunn
Vice President: Robbie Clarke VP Communications: Ivana Jurcevic VP Internal: Meera Joseph VP R&D: Nick Lamont VP Social: Adrianna Mika VP Finance: Vidushi Khatri Secretary: Sarah Morrison 4th Year Rep: Kevin Lin 3rd Year Rep: Jared Pautler 2nd Year Rep: Nathan Smith & Ashley Ching Strain Optimization Team Lead: Jeffrey Jung Instrumentation Team Lead: Jason Becker Extraction and Separation Team Lead: Chris Leech Transesterification Team Lead: Long Vu Containment Team Lead: Jake Margel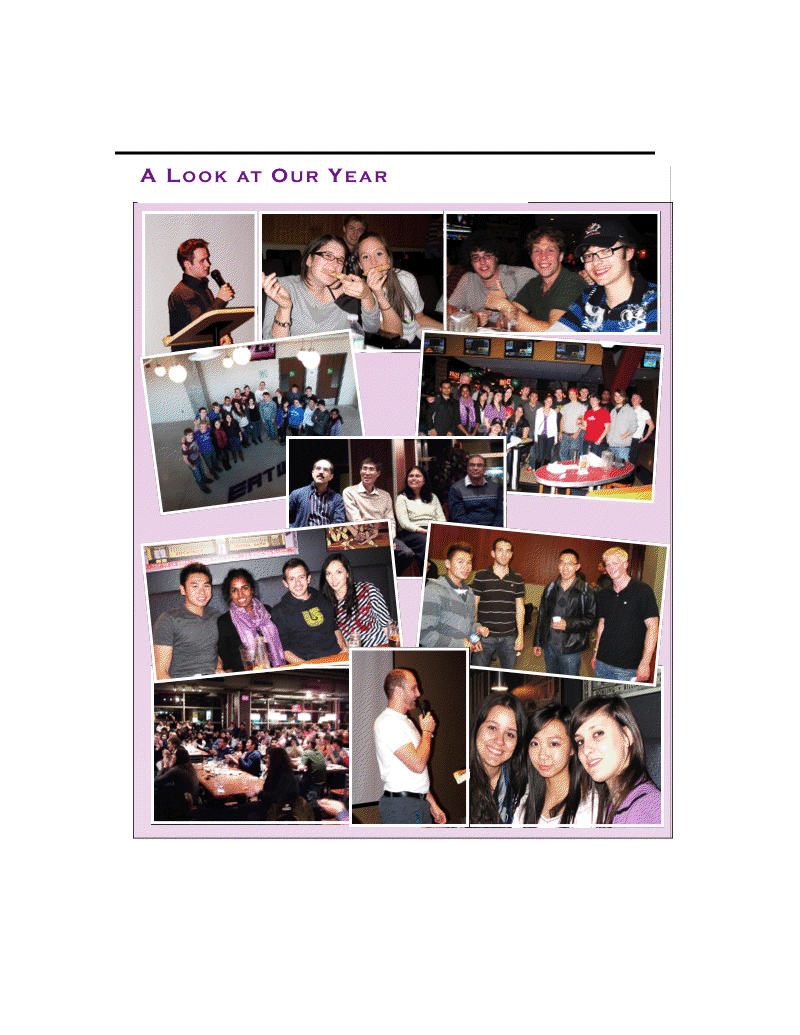 Also from this web page:
Welcome!
Contact Us
Email:
---