Ghana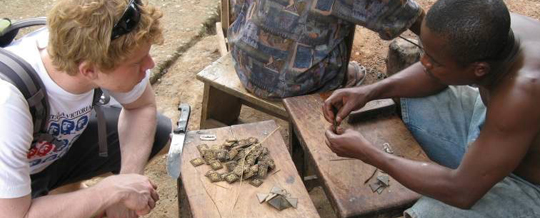 above: Tyler Rosen absorbing the local culture in Ghana (2008)

May – August 2010

David Marmor, Jessica Barker and Kate Pejmann worked with Zoomlion Ghana Limited, Ghana's largest solid waste management company, on the feasibility and design of a plastic recycling facility. More information to come. (Back to top link)

May – August 2008
Tyler Rosen and Taryn Meyers were travelled to Ghana to use their skills and knowledge in civil engineering to help with several on-going development programs and initiatives. They worked with Friends of the Earth on the Lake Bosumtwe project. The goal of the project was to conserve the globally significant flora and fauna of the lake's basin in an integrated manner through support for traditional practices and a community-based conservation program. They participated in water and sanitation projects in the town of Gomoa Dago in the Central Region of Ghana and worked with two other students from the Department of Civil Engineering at the University in Kumasi to design a library. Finally, Taryn and Tyler worked with staff of SNC-Lavalin (a Canadian consulting company) and the Ghana Water Resources Commission on the Hydrogeological Assessment Project in Accra.
Also from this web page:
Welcome!

Follow us on Facebook!
Upcoming Events
This Month
---
Tuesday, March 12 - We will be hosting an event at the WAVE to bring awareness to the program and the work that is being done oversees. Guest speakers will talk about their own experiences in I.D.
---
Next Month
---
---
Contact Us
Western Engineering Association for International Development
T: 5190-661-2111 ext. 80974
E: weaid@uwo.ca