---
News Feed
---
CEE&ID 3 month placement 2013: Ghana and India

This year's students are about to embark on their 3 month placement starting in May!
They will be blogging throughout the summer about their experiences.
WEAID Awareness Night
March 12, 6:30pm at the Wave (UWO)
This event will bring awareness of the Civil and International Development program to the Engineering Faculty, and to the entire UWO campus. Special guests will speak on their experiences with working in International Development. Food will be provided. Tickets at $5.
---
Spencer and Scott have launched their 'Perspective' Campaigns

Engineers Without Borders Canada has launched their 'Perpectives Challenge' campaign that shares members' views on EWB's work, aid, and development. Check out Scott and Spencer's entries! All proceeds to benefit EWB's African and Canadian programs seeking to address the root cause of poverty.
Spencer Weber's Perspective
---
Dan, Yena, John and Spencer are back!
Check out what these WEAID members did over the summer!
---
Follow John's blog to keep up to date with his experiences this summer working with the Gambian Ministry of Agriculture! Check out his first post now!
---
WEAID World Puzzle Challange Results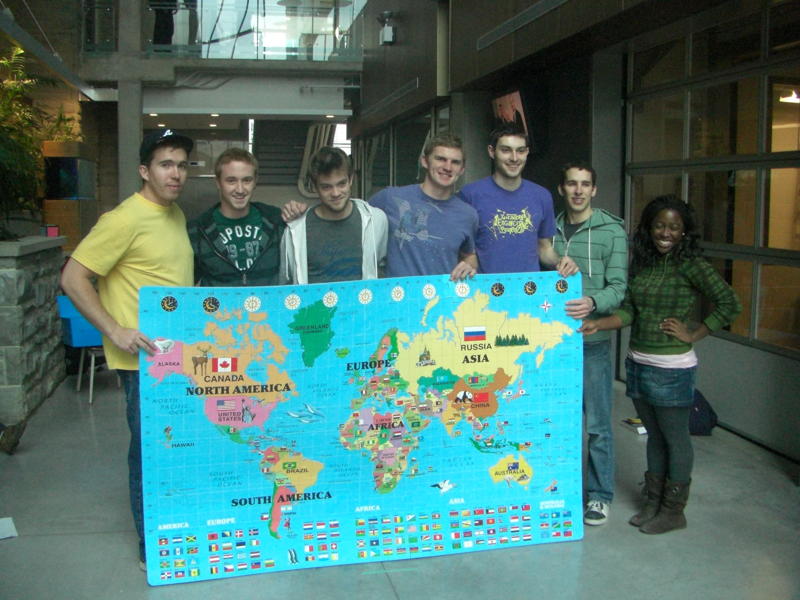 This year the 3rd year students completed the puzzle in record time: 10 min 46 sec!
Congratulations to Nick Agam who won the best heckler award!
Thanks to everyone who came out to support WEAID!
---
Spencer will be working in Zambia from May to August with Engineers Without Borders Canada in the agriculture value chains sector. Check out his first post on motivations for going overseas!
---
WEAID World Puzzle Challenge
Date: March 31, 2011
Time: 12:30pm
Location: CMLP Atrium
---
WEAID Launch Night
Date: Wednesday, February 16, 2011
Time: 5:00 p.m.
Location: The Wave
Read more
---
WEAID and engineers working in International Development
By Danielle Yena Ahadzie
International Development is a broad term that encompasses all types of development work in the international community; development workers can be from any profession ... Read more
---
Also from this web page:
Welcome!

Follow us on Facebook!
Upcoming Events
This Month
---
Tuesday, March 12 - We will be hosting an event at the WAVE to bring awareness to the program and the work that is being done oversees. Guest speakers will talk about their own experiences in I.D.
---
Next Month
---
---
Contact Us
Western Engineering Association for International Development
T: 5190-661-2111 ext. 80974
E: weaid@uwo.ca