Catherine Karakatsanis, BESc '83 MESc '91, installed as PEO President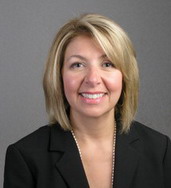 Professional Engineers Ontario (PEO), the licensing body for professional engineers in the province, installed Catherine Karakatsanis as its 90th President during its annual general meeting on May 9. Karakatsanis succeeds J. David Adams, and will lead PEO's 71,500 members and 4,900 interns. She will also chair its Council in 2009-2010. Karakatsanis is the fourth woman to be elected president of the association.

Karakatsanis is a senior vice president and board member at Morrison Hershfield, a consulting engineering and management firm with 12 offices across North America and over 700 employees. She heads up the building and facilities division, which provides multidisciplinary engineering expertise to the commercial, institutional, residential, industrial, and public sectors.

After graduating with bachelor's and master's degrees in engineering from The University of Western Ontario, Karakatsanis was a research assistant at the Boundary Layer Wind Tunnel Laboratory. She joined Morrison Hershfield in 1989 and has since had a diversified career with extensive engineering and management experience.

Karakatsanis has been an active volunteer in the engineering community for almost two decades, having served on numerous PEO and Ontario Society of Professional Engineers (OSPE) committees; on the board of OSPE for five years and as OSPE president and chair. She also serves on the board of the Foundation for Education, and Western Engineering's Advisory Committee.

Professional Engineers Ontario administers the Professional Engineers Act by licensing Ontario's professional engineers, granting temporary, limited and provisional licenses to practice professional engineering, and authorizing businesses to provide engineering services to the public. It sets standards for and regulates engineering in Ontario so that the public interest is served and protected. Rigorously educated, experienced, and committed to a Code of Ethics that puts the public first, licensed professional engineers can be identified by the PEng after their names.
Also from this web page:
Contact
.: Allison Stevenson
Spencer Engineering Building, Room 2074
Phone: (519) 850-2917 Fax: (519) 661-3808
contactwe@eng.uwo.ca
---