Two Western Engineering students receive Canadian Engineering Memorial Foundation awards
The criteria for the CEMF engineering scholarships, at first glance, may not seem overly stringent. Canadian women applying must be leaders, volunteers, involved in numerous community activities and willing to go out of their way to inspire others. And yet, the combination of these characteristics results in remarkable women who shine among their peers.

The $15,000 Claudette MacKay-Lassonde Scholarship is the premier award allotted by CEMF and annually an outstanding female student at the PhD level is selected from across Canada as its recipient. This year's winner, Erin Hansuld, has met and exceeded all expectations.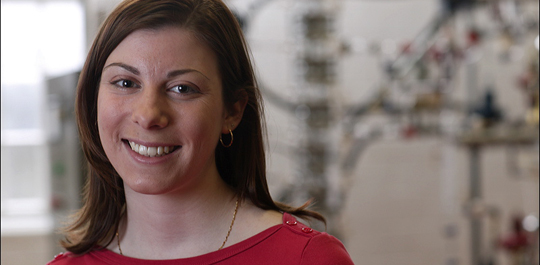 Erin Hansuld
Erin is a second-year PhD candidate at The University of Western Ontario. Her area of research is the application of microphones for online monitoring and control of high-shear granulation – a critical step in the manufacturing process for pharmaceutical tablets.

After five years of study at Western, Erin received concurrent degrees; a Bachelor of Engineering Science and a Bachelor of Honour Business Administration. She then began her master's of engineering science at Western. The work included a six-month internship with GlaxoSmithKline Inc. At the end of the internship, Erin was asked by the company to transfer to a PhD program. Throughout her high school and university schooling, Erin was involved in many extracurricular activities. On graduation from her undergraduate programs, Erin received the Doreen M. Dinsdale award for leadership and extracurricular involvement.

When not working on research, Erin enjoys kayaking, sailing, yoga and other fitness activities.

"Erin is an exceptional woman and we are lucky to have her representing the Foundation and the profession of engineering as a whole," says Suzelle Barrington, CEMF president. "She is bright, and hardworking and committed to her profession. Our goal is to attract more women to engineering; Erin is a role model for other young women and she is already serving as an inspiration to others."

Along with the $15,000 scholarship, Erin received an expense-paid trip to the CEMF Annual Awards Luncheon in Québec City during the occasion of the Annual General Meeting of Engineers Canada held on May 22, 2009.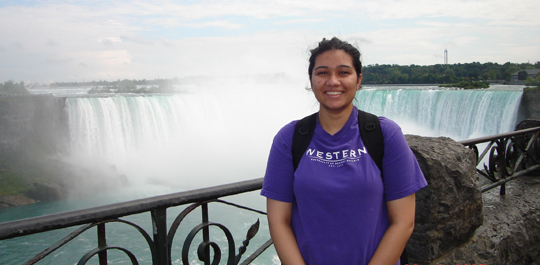 Neha Sharma
Neha Sharma from Western Engineering and Bahar Memarian from the University of Toronto have been named the 2009 recipients of the $2,500 IBM Canada Undergraduate Scholarships by CEMF. Both Neha and Bahar will receive a summer job opportunity at an IBM Canada facility.

Neha is a third year electrical engineering student, specializing in biomedical signals and systems. For many years, Neha wanted to become a neurosurgeon but after discovering physics and calculus, decided to pursue engineering.

Her personal motto is "if you have an interest in something, don't let anything stop you."

Neha chose electrical engineering and is helping pave the way for younger women who also love a challenge. She is heavily involved in extracurricular activities including volunteering at the Go ENG Girl events yearly to help encourage female high school students to consider engineering.

Neha has not completely lost her interest in medicine; her goal as a biomedical engineer is to design machines that help detect disease.

"The Foundation is proud to present both Bahar and Neha with these well-deserved scholarships. Both are outstanding young women who are already demonstrating they will be leaders in the future and are excellent role models for others," says Suzelle Barrington, CEMF president.

Along with the $2,500 scholarship, both students are being funded by Foundation to attend the CEMF Annual Awards Luncheon in Québec City during the occasion of the Annual General Meeting of Engineers Canada held on May 22, 2009.

The Canadian Engineering Memorial Foundation was founded in 1990 and honours the memory of the 14 women from École Polytechnique in Montreal who lost their lives on December 6, 1989. CEMF is committed to creating a world where engineering meets the needs and challenges of Canadians by utilizing the skills and talents of men and women alike, promoting engineering as a career choice with the generous support of Canadian corporations and many individual engineers from coast to coast.

The Foundation provides a total of 13 scholarships at the undergraduate, Masters and PhD levels of study and promotes engineering as a career choice for women through their website, press releases, Annual Awards Luncheon and scholarship winner presentations to high school students.
Also from this web page:
Contact
.: Allison Stevenson
Spencer Engineering Building, Room 2074
Phone: (519) 850-2917 Fax: (519) 661-3808
contactwe@eng.uwo.ca
---