Engineering Now .: Volume 4 - Edition 2 .: October 2007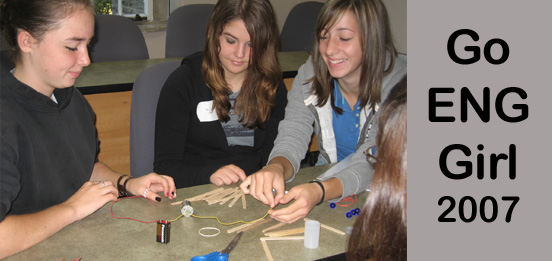 Go ENG Girl 2007 took place on Saturday, October 13, in Spencer Engineering Building. Girls in grades 7 - 10, and their parents, spent the morning discovering what opportunities await them in an engineering career. (more)
Western Again tops Globe survey
The University of Western Ontario "consistently boasts the most satisfied students in the country" according to today's Globe and Mail University Report Card that again ranks the campus tops among the nation's large universities. (more)


Electrical and Computer Engineering student receives Best Student Paper Award from IEEE conference
Niki Abolhassani, a doctoral student in the department of Electrical and Computer Engineering working under the supervision of Dr. Rajni Patel, received the Best Student Paper Award for the paper: "Needle Control along Desired Tracks in Prostate Brachytherapy". The paper was presented at the 2007 IEEE International Conference on Systems, Man, and Cybernetics (more).


Three Western Civil and Environmental graduate students were selected as finalists for the Ontario Exchange Forum
Ph.D. Candidate M. Shahria Alam (Supervisors: Dr. M. Nehdi and Dr. M. A. Youssef), M.E.Sc. Candidate Yamen Elbahy (Supervisors: Dr. M. Nehdi and Dr. M.A. Youssef), and M.E.Sc. Candidate Salah El-Fitiany (Supervisor: Dr. M.A. Youssef) presented their work at the University of Waterloo on October 4, 2007. Only 10 M.E.Sc. and 10 Ph.D. candidates were selected from across all Ontario universities. (more)


NSERC Strategic Research Grants awarded to Western Engineering researchers
Out of five NSERC Strategic Research Grants recently awarded to Western researchers, four were to Western Engineering researchers. (more)


Several Western Engineering faculty announced as Stermac Award winners
Hesham El Naggar (Associate Dean) and Tim A. Newson (Associate Professor) are 2007 award recipients. Stermac awards are presented to members of the Canadian Geotechnical Society who have made outstanding contributions through their actions at the local, national or international levels. The awards were presented to the winners at a ceremony on October 22.


Fine-tuning for robotics is touching
Robotic surgeons should have feelings, too. That's the view of London medical researchers who have teamed up with a Markham-based firm in an effort to give surgeons something they lost when they traded their scalpel for a robot -- the sense of touch. (more)


Faculty of Engineering to host two projects under the Interdisciplinary Development Initiatives program.
Across campus faculties are teaming up with each other in an effort to produce innovative and cutting-edge research. The Faculty of Engineering will play a prominent role in two of eight upcoming research projects. (more)


Can nanotubes solve looming energy shortage?
Interesting things often come in small packages and it just might be one of the smallest of packages that delivers an important gift for an energy-hungry world - a solution to the world's impending oil shortage. (more)
Sunstang update
The race is over! It was a bumpy ride for the Sunstang team in Australia. After first overcoming a near disastrous accident early in the event, they then battled through extreme weather. Sandstorms and wind eventually ended the race early. Read all about the team's adventures on their website. Read other media coverage of Sunstang in the October and November Media Clips


Attention 2nd, 3rd and 4th year Engineering students: Haven't registered for B Term courses yet?
To avoid long line-ups in January, you might want to add or drop courses for B term now. If you require signatures for special permissions or timetable conflict forms, this may be the time to locate your professors. You can find add / drop forms in the document sorters outside the Undergraduate Services Office, SEB room 2097. If you have any questions or need to submit your add / drop form, keep in mind that the undergraduate office is open on weekdays between 9:00 am and 4:00 pm.


RISE (Research Internships in Science and Engineering)
The German Academic Exchange Service (DAAD) is again offering the RISE (Research Internships in Science and Engineering) and RISE professional programs for the summer of 2008. Scholarships are awarded to Canadian undergraduates (RISE) and graduate students (RISE professional) in the fields such as Engineering. (more)


United Way Campaign - Important Announcements for Staff, Faculty and Students.
The United Way campaign is well underway across campus. Check this newsletter, and the online calendar regularly for important announcements for faculty, staff and students. (more)


7th Annual Dinner and Dance - December 14th, 2007
Faculty, Staff and Graduate Students in engineering: You and your guest are invited to join us in welcoming another holiday season. (more)


Innovate or Die Pedal-Powered Machine Contest
Google and Specialized are searching for the brightest engineering minds on earth for the first ever Innovate or Die Pedal-Powered Machine Contest. (more)


2007 Polar Stick Bridge Competition
Students from across the city will test out their bridge-building skills at the annual Polar Stick Bridge Competition. Come on out and see which bridge will be the last standing! (more)


Minerva Canada's James Ham Safe Design Awards Contest 2007-08
Ontario Undergraduate Engineering students wishing to enter the 2008 Minerva Safe Design contest should contact Minerva Canada by December 15, 2007. Final submission date is February 22, 2008. (more)


Attention departments: interested in hosting a monthly get-together for staff and faculty?
Sue Chapman coordinates a monthly informal get-together for staff and faculty to get to know each other in a casual setting, with coffee and treats. These are held on the first Tuesday of each month, usually at 2:30. (more)



Click HERE to view Western Engineering's online calendar. This calendar includes a complete list of Western Engineering's upcoming events and deadlines.

Events are colour-coded as follows:
Grey - Faculty-wide events/deadlines
Purple - Student events/deadlines
Light blue/Teal - Faculty member events/deadlines
Orange - Faculty & Staff events/deadlines
Green - Staff events/deadlines
Yellow - UES Events/Announcements
Pink - Faculty, Staff and Graduate student events/deadlines
Homecoming 2007
September 28 - 30, 2007


Go ENG Girl
Saturday, October 13, 2007


Alumni/PEO Football game
Saturday, October 13, 2007


Engineers Without Borders "Squash the Pumpkin"
Tuesday, October 23, 2007
Contact
.:Becky Blue
Spencer Engineering Building, Room 2074
Telephone: 519 850-2917 Fax: 519 661-3808 contactWE@eng.uwo.ca
---