Take Our Kids to Work Day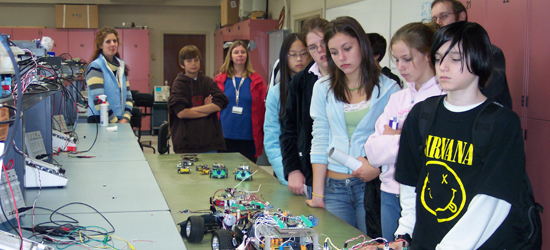 Please register for each of these presentations with the identified contact person by Friday, October 28, 2005.
Western Engineering
10:30 am - 11:30 am
Check out the latest engineering technology in action. To register your student for a Western Engineering tour, contact Sue Chapman.

Lunch at The Wave
12:00 pm - 1:00 pm
Lunch with parents (Free pop for parents and Grade 9 students at The Wave - with order of lunch entrée and presentation of coupon. Click here to download the coupon...

Schulich School of Medicine & Dentistry
1:30 pm - 2:20 pm
Learn about the newly developed MedQUEST camp. This week-long summer camp is open to Grade 10 and 11 students in Southwestern Ontario looking to gain hands-on exposure to a career in healthcare. Following the presentation, students will work with Noelle "the mannequin mom" who helps med students learn how to deliver babies.

To register your student for the SWOMEN presentation email Laurie Roberts.

Faculty of Science
2:30 pm - 3:20 pm
Take a guided tour and experience a live seismograph demonstration, learn about dinosaurs, meteorites, a brief ancient history of Ontario, fossils and minerals, volcanoes, earthquakes and worldwide tectonic activity.

To register your student for the Faculty of Science presentation Matt Devereux.
Also from this web page:
Contact
.: Allison Stevenson
Spencer Engineering Building, Room 2074
Telephone: (519) 850-2917 Fax: (519) 661-3808
contactweATeng.uwo.ca
---