Smashing poverty with pumpkins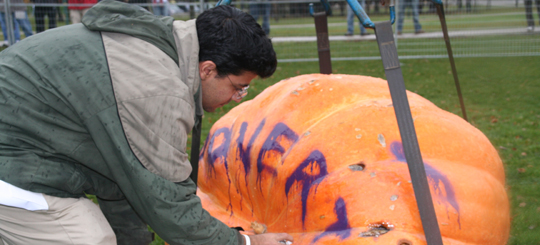 A 750-pound pumpkin, with the words "Poverty" spray painted on it, was dropped from 100-feet Tuesday, November 15 to symbolize what EWB Western would like to see happen to poverty one day.

The group used the Pumpkin Drop as a fundraising initiative to help send EWB Western volunteers overseas.

"Every time we collected $10 from the crowd we would lift the pumpkin 1 foot in the air," explained Luke Brown, EWB Western member and Pumpkin Drop coordinator. "Our goal was to raise $1,000 and we raised almost that much."

Click here to read Ian Gillespie's column in the London Free Press...

Click here to view more pictures and video...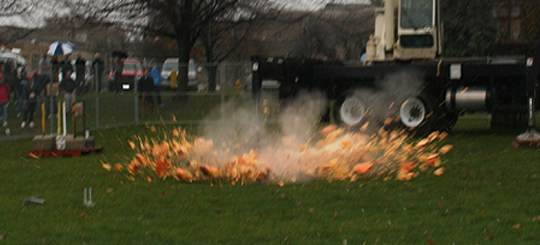 Also from this web page:
Contact
.: Allison Stevenson
Spencer Engineering Building, Room 2074
Telephone: (519) 850-2917 Fax: (519) 661-3808
contactweATeng.uwo.ca
---