Leonardo da Vinci Room - Grand Opening
By Karmen Dowling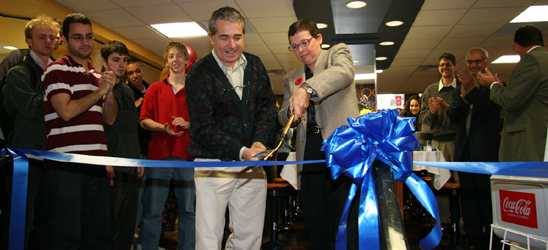 A new place to study, rest and eat is now open on the lower level of the Spencer Engineering Building, named the Leonardo da Vinci Room.

"The name is the best representation of what Engineering at Western represents," said Dean of the Faculty of Engineering Franco Berruti, at the grand opening on Tuesday. "Besides being the best engineering school in the country, we are many more things and offer a variety of options for the best student experience."

Berruti adds the new cafeteria will be a great place to exchange ideas and come up with creative solutions for the future.

It took five months to replace the old and outdated space. The new operation now houses a lounge, tables with seating for 98, a full service Tim Hortons, the Lifestyles program (fresh sandwiches, salads, etc.) and Domino's pizza. Art representing the work of da Vinci is prominently displayed.

Contact
.: Allison Stevenson
Spencer Engineering Building, Room 2074
Telephone: (519) 850-2917 Fax: (519) 661-3808
contactweATeng.uwo.ca
---