Barry Kay named recipient of the Sharon A. Ling Award of Excellence for Outstanding Achievement by a Staff Member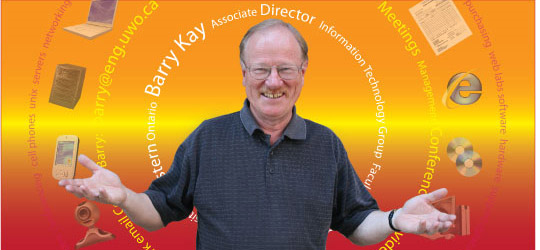 The Sharon A. Ling Award of Excellence for Outstanding Achievement by a Staff Member is presented annually to a Western Engineering employee to recognize his or her exceptional long-term contributions in support of the academic, research, innovation, public service or administrative missions of The Faculty of Engineering. The award was renamed in 2007 to honour and recognize Sharon Ling, a long-time staff member in the Department of Electrical & Computer Engineering. Sharon was a staff member who passionately dedicated her time and energy for the betterment of the Faculty. By a unanimous vote, the selection committee has chosen Barry Kay, Associate Director for Western Engineering's Information Technology Group (ITG), as this year's recipient.

Barry has worked for the Faculty of Engineering for over 30 years and played an instrumental role in the ongoing evolution of information technology both within the Faculty and across Western's campus. On a daily basis he provides leadership to a team of seven IT professionals in the Faculty of Engineering, who provide strategic IT support services for approximately 1,900 customers. He has managed the escalating growth in information technology in education and research, and worked to address the ever increasing demands for diverse user support.

The selection committee was impressed by the letters of support that Barry received from faculty and staff, as well as from his colleagues outside of Engineering. One colleague wrote that "Barry has sustained, for such a long time, his great passion and enthusiasm for the Faculty of Engineering, its students, staff and faculty members."

Barry will be presented with a plaque and framed certificate at the 2009 Faculty and Staff Award Luncheon to be held on May 6 from 12:00 pm - 2:00 pm at the Great Hall.
Also from this web page:
Contact
.: Allison Stevenson
Spencer Engineering Building, Room 2074
Phone: (519) 850-2917 Fax: (519) 661-3808
contactwe@eng.uwo.ca
---