Emitting success
By Erin Clifford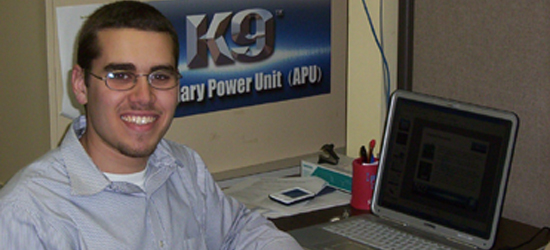 The Ontario Global Traders Awards (OGTA) recognized Rafiq Qutub, a Western Engineering Biochemical and Chemical engineering student for the work he has done on the Ontario Emission Trading Program.

Qutub, who had no previous experience in exporting or trade, has been selected as a regional award recipient for the 8th Annual Ontario Global Traders Awards. This awards program is an annual provincial ceremony administered by the Ministry of Economic Development and Trade.

"My internship tenure allowed me to tap into new ventures and apply my engineering skills in exporting environmental technology," states Qutub. "I was nominated by EcoTrans Technologies Inc. after the success of the emissions trading project with our American railroad client. I was hired as an engineering intern in May 2005 to work with the management team on formulating a strategy for the creation of emission reduction credits from mobile sources in Ontario."

Exciting environmental advances are being made at EcoTrans Technologies Inc. The emissions Trading Project "is a system administered by the Ontario Ministry of the Environment that allows companies who voluntarily reduce their emissions to gain 'credits' that can be 'sold' in a special trading registry," explains Qutub. "This market-based system allows companies with high environmental performance to gain financially and creates an economic incentive to reduce harmful emissions."

The OGTA was first introduced in 1998 . It was designed to recognize outstanding export achievements of the most innovative and successful small and medium-sized enterprises, leaders and students in Ontario. Winners are chosen from a progressively competitive group of nominees. An independent interdisciplinary panel of judges is charged with evaluating nominations in six award categories: Innovation, Market Expansion Product, Market Expansion Service, Partnership, Student Achievement and Leadership.

When asked what his reaction was to receiving this award, Qutub said, "I was really excited given that I am an engineering student with a technical background and never anticipated such an award. I am really grateful to Mr. Ed Arts, Director of EcoTrans Technologies, for nominating me, as well as for his advice and support along the way." Qutub adds," Western Engineering is a great school. I particularly recommend the Summer Co-op (SECOP) and Industry Internship Program (IIP) for engineering students, because it allows them to broaden their experience and increases their competency as engineering graduates."

Qutub will be returning to Western next year to complete his degree in Biochemical Engineering. The OGTA will take place in Cambridge on April 20, 2006. Gold award recipients will move on as finalists at the Provincial award ceremony, taking place May 31, 2006 in Toronto.
Also from this web page:
Contact
.: Allison Stevenson
Spencer Engineering Building, Room 2074
Telephone: (519) 850-2917 Fax: (519) 661-3808
contactweATeng.uwo.ca
---