Western Engineering opens up for March Break
By Erin Clifford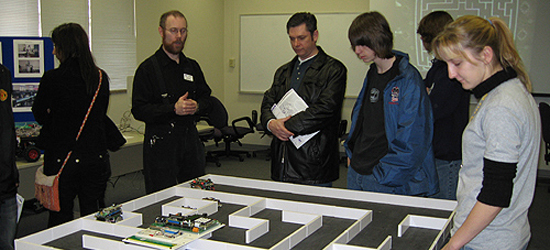 The fog cleared and revealed a beautiful day for students to check out Western Engineering.

This year's March Break Open House brought many perspective students to Western's Campus. Western Engineering opened its doors to 270 aspiring University students, their friends, and family members who all got a very special glimpse of what Western Engineering has to offer.

Their experience started at 10 am with an address from Dean Berruti, who promptly turned the reins over to Pencilla Lang a second-year Mechanical Engineering student. "She can give you a first-hand account of what it is like to be in Western Engineering," Dean Berruti remarked. And that's exactly what she did. Pencilla gave perspective engineers an overview of everything Western Engineering has to offer students.

President Paul Davenport briefly interrupted Pencilla's presentation to deliver an inspiring address about everything that Western has to offer its students. President Davenport noted that "Western has the best student experience among research-intense Universities and we intend to keep it that way."

When the presentations were over, and everyone had a chance to ask their questions to Dean Berruti, the group split up into 4 groups with 2 Western Engineering student volunteers to escort them on tours through the Spencer Engineering Building. Each stop along the way featured faculty members explaining about what their specific area of engineering. They also showed off the great things that their students have done over the years.

Student clubs and faculty members had displays set up in the UES Resource Room and cafeteria. All perspective students had to do was ask and everything they could possibly want to know about Western Engineering was at their disposal.

With 50 student volunteers, 15 faculty volunteers, and 8 staff volunteers, perspective students and their guests were exposed to as much information and personal experiences about Western Engineering as they could possibly want or need.


Photos
Also from this web page:
Contact
.: Allison Stevenson
Spencer Engineering Building, Room 2074
Telephone: (519) 850-2917 Fax: (519) 661-3808
contactweATeng.uwo.ca
---