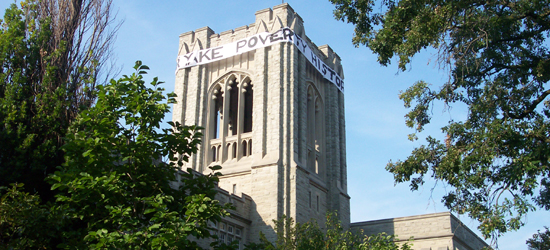 EWB Western recognized with two awards at National Conference
With only two years under their belt, EWB Western received two awards at the Engineers Without Borders National Conference in Ottawa January 18-22, 2006.

The group was presented with Chapter of the Year (tied with Waterloo), and Dean of the Year.

"I have been inspired by a great group of students that have created a vigorous Western Chapter of Engineers without Borders," says Dean Berruti. Engineering is a helping profession, and as a centre for engineering education, we wish to teach and learn how best we can contribute to making our world a better place for everybody."

Receiving Chapter of the Year and Dean of the Year is a tribute to EWB Western's hard work and dedication over the past two years. Through their Make Poverty History Campaign, large scale fundraising, weekly educational presentations/workshops, strong relationship with Western Engineering and incredible chapter growth, EWB Western created widespread awareness of EWB and its mission to "Promote human development through access to technology."

Highlights since their inception as a chapter in September 2004 include:

Establishing a relationship with Pearl Jam to allow EWB to promote the Make Poverty History campaign at all their stops in their Canadian Tour


Raising over $6 000 through raffling off soccer jerseys signed by David Beckham, Ronaldo, Figo, Roberto Carlos, Zidane, Raul, Ronaldinho and Cassilas


Hosting weekly education workshops to educate EWB members on human development issues such as irrigation in Zambia to water sanitation in Ghana


Incorporating a six-month design project aimed at providing innovative solutions to today's human development issues enhancement to Western Engineering's first-year curriculum


Working with Dean Berruti to declare Make Poverty History Week within the Faculty of Engineering


Increasing chapter growth form 15 members in September 2004, to 400 members today.

For more information about EWB Western, please visit http://www.uwo.ewb.ca/.
Also from this web page:
Contact
.: Allison Stevenson
Spencer Engineering Building, Room 2074
Telephone: (519) 850-2917 Fax: (519) 661-3808
contactweATeng.uwo.ca
---