Ross Clark continues to support Western Engineering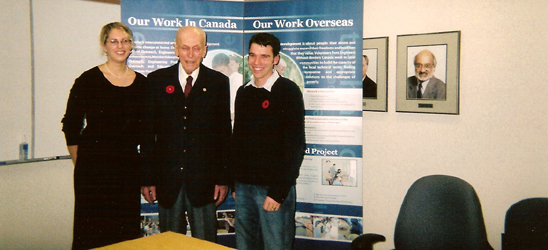 Ross Clark, Meng '75, has been supporting Western Engineering students for years through The Ross and Jean Clark Scholarships. Now he is also helping Western engineering students head overseas for a summer placement through Engineers Without Borders (EWB) to help developing communities work their way out of poverty.

Clark's recent gift to Western's Engineers Without Borders Chapter will provide two students with the opportunity to travel overseas to complete a Junior Fellowship Program in International Development.

EWB Western will be sponsoring Sarah Takaki, a masters student in biomedical engineering, and Ricky Patel, a third year integrated engineering student, to work with communities in Ghana and Zambia respectively. Sarah will also be working with Luke Brown a recent graduate from chemical engineering at Western. EWB Western will also be sponsoring Luke who will be in Ghana for a full year with Engineers Without Borders.

"We are really thrilled with this level of support and generosity from Mr. Clark," says EWB President, Jason Teixeira. "Not only is this an investment in Western Engineering, as our two Junior Fellows will bring back invaluable experience, lessons, and enthusiasm to share with our chapter and faculty, but this is also an investment in people and recognizing that we have the capability to help people around the world."
Also from this web page:
Contact
.: Allison Stevenson
Spencer Engineering Building, Room 2074
Telephone: (519) 850-2917 Fax: (519) 661-3808
contactweATeng.uwo.ca
---