Designing our students' future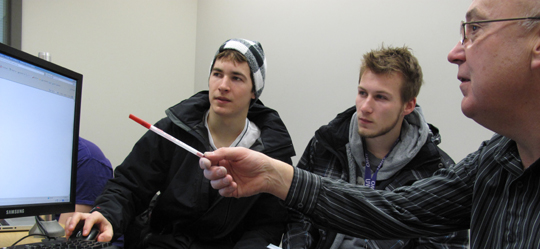 Mechanical & Materials Engineering Professor Paul Kurowski has been selected as the 2009 recipient of the R. Mohan Mathur Award for Excellence in Teaching for his efforts as Course Coordinator for ES 1050 – Introductory Design and Innovation Studio.

"Paul's involvement in streamlining the design curriculum in the Faculty of Engineering has equipped our students with design skills that are high demand in industry," says Western Engineering Dean Andrew Hrymak.

Professor Kurowski has also been a significant member of undergraduate and graduate education in Western Engineering, acting as an advisor and mentor for fourth-year students and graduate students in the field of Design and Design Simulation using CAD and FEA. He also just completed teaching a new graduate course for the ADMI MEng program - Advanced Finite Element Analysis.

Professor Kurowski's research has been focused on teaching methods that concurrently introduce theory and practical implementations providing students with skills readily applicable to the needs of industry. He was the recipient of the 2005 Society of Automotive Engineers, Teaching Excellence Award and the Western Engineering UGS Teaching Excellence Award in 2007.

"His on-going commitment to innovative teaching and the advancement of the undergraduate curriculum at Western Engineering make him a very deserving recipient of the R. Mohan Mathur Award for Excellence in Teaching," explains Dean Hrymak.

The R. Mohan Mathur Award for Excellence in Teaching is presented annually to an outstanding Western Engineering faculty member to recognize his or her exceptional contributions to University teaching and the promotion of academic excellence amongst our students.
Also from this web page:
Contact
.: Allison Stevenson
Spencer Engineering Building, Room 2074
Phone: (519) 850-2917 Fax: (519) 661-3808
contactwe@eng.uwo.ca
---