Western Engineering Shines at the 2009 Ontario Engineering Competition
By Nancy Quaegebeur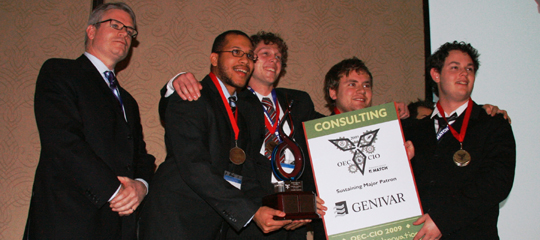 Western Engineering dominated at the 2009 Ontario Engineering Competition (OEC) hosted by Guelph University, February 6-8, 2009. 6 teams of undergraduate engineering students represented Western Engineering; several students came home with top recognition for their achievements.

The team of Warren Furnvial, Jonathan Ripley, Jerome James and Adam Papini wowed the judges with their "Ideas to Reduce the Amount of Waste Sent to Landfills" project in the consulting category, awarding them first place in this category. Jerome James, fourth-year Mechanical Engineering student said, "It was an awesome experience. Receiving first place was unexpected and very exciting."

Abdul Naeem received top honours in the Engineering Communications category for his presentation "The Mystic Art of Neurological Machines." After the event Naeem explained, "It was quite nerve wracking. I was presenting to a panel of judges who were amazingly accomplished in their careers. Many had graduate degrees and also held leadership positions with profession societies." Luck was also on Naeem's side that day as the judges also granted him the Social Awareness award for his ability to demonstrate the understanding of the complex relationship between society and engineering.

Western Engineering's Parliamentary Debate team, Shaunvir Sidhu and Latif Abid debated their way to a third place standing. Western also sent a Senior Design Team consisting of Mark Cicero, Jimmy Tsu, Adam Del Gobbo and Mark Szynkaruk, a Junior Design Team of Jonathan Charles, Jeet Zandawala, Jonathan McLeod and Kirsten Peterson. Ryan Sirucek competed in the Innovative Design category.
Also from this web page:
Contact
.: Allison Stevenson
Spencer Engineering Building, Room 2074
Phone: (519) 850-2917 Fax: (519) 661-3808
contactwe@eng.uwo.ca
---