A great day to be an engineer
By Erin Clifford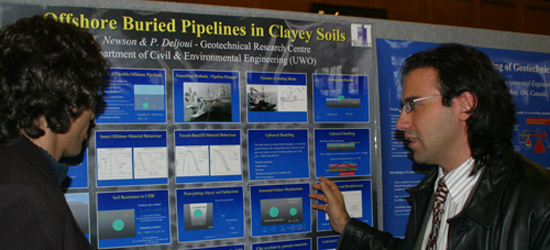 Research posters, engineering displays and patents – oh my! Western Engineering's 5th Annual Research Day was an undeniable success.

Over 80 faculty members and 250 graduate students awed approximately 100 industry members with their posters and displays.

"Research day is an opportunity to mix and to learn," explained Western Engineering Dean, Franco Berruti. "It is the result of the help of many people and organizations."

Ted Hewitt, Western's Vice-President Research and International Relations, agreed by yelling, "It is a great day to be an Engineer!" Adding, "Western Engineering is a leader in Wind and Environmental Engineering, Biomedical Engineering, and the list goes on and on. Western Engineering is a leader among leaders at the University."

Three patents were also presented during the event:
1. Dr. Hugo DeLasa, Tarek El Solh, and Kai Jarosch were presented with a patent for their work on the Catalyst for Hydrocarbon Reforming Reaction;
2. Dr. Amarjeet Bassi, Dr. Christopher Lan, Dr. Argyrios Margaritis, Dr Ying Zheng, and Dr Jesse Zhu received a patent for their work on the Method for Recovering Ionic Products; and
3. Dr. Brown, Dr. Tom Doyle, and Dr. Paul Wynen were recognized with a patent for their work on Electrostatic Separation of Mixed Electrically Insulating Particles.

"This is the first year that all of the technology and patents have been engaged into a commercialization stage," explained Dean Berruti.


Photos
Also from this web page:
Contact
.: Allison Stevenson
Spencer Engineering Building, Room 2074
Telephone: (519) 850-2917 Fax: (519) 661-3808
contactweATeng.uwo.ca
---