Are you using the correct WE logo?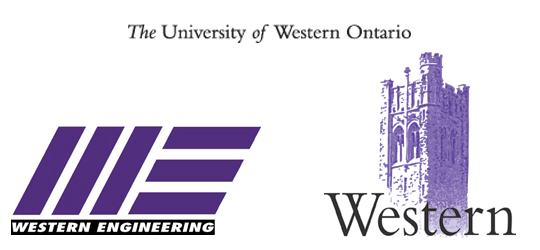 Western Engineering has been proudly using the WE logo on publications, clothing, PowerPoint presentations, letterhead, etc. for the past 4 years. The WE logo is the most recognizable symbol for Western Engineering and needs to be used consistently to be most effective.

After recent consultation with faculty, staff and students, it was decided the WE logo needed a makeover to become more user friendly. In September 2005 the gradient fade was removed from the WE and the text, Western Engineering. The bars of the WE were also made a little bit wider to adjust the spacing.

So now the question remains - are you using the latest and greatest version of the WE logo?

To help ensure everyone is using the approved logo, please visit the Western Engineering Graphic Standards Web site - http://www.eng.uwo.ca/comms/graphics/index.htm.

On this site you will find logo downloads for the WE logo, Tower logo, The University of Western Ontario wordmark, and Bembo font. You will also have access to templates for PowerPoint presentations, name badges, door signs, and much more. Detailed information about official colours, basic elements, and ground rules for using the WE logo are also available on the Graphic Standards Web site.

For more information about the WE logo, please contact Allison Stevenson, Communications Officer (Engineering).
Also from this web page:
Contact
.: Allison Stevenson
Spencer Engineering Building, Room 2074
Telephone: (519) 850-2917 Fax: (519) 661-3808
contactweATeng.uwo.ca
---