The tradition continues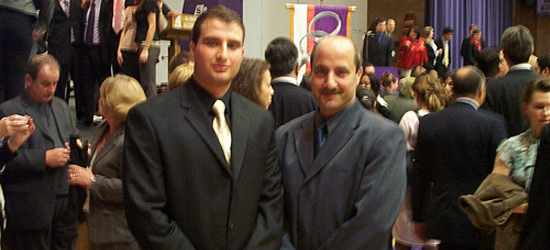 Graduation does not officially take place on campus until June, but Friday, March 31 felt like graduation day for many Western Engineering students at the 2006 Ritual of the Calling of an Engineer.

Family, friends, faculty and fellow students watched over 300 candidates receive their Iron Rings in Alumni Hall Friday, March 31, 2006.

"The Iron Ring Ceremony means more to some of us than graduation because it's a capper to our year," explains James Afara, a fourth-year Chemical Engineering student. "We are a tight group of friends and a lot of students are leaving at the end of April for jobs out of province. It's hard for everyone to get back for graduation, so this is our time to celebrate."

Like all practicing engineers, James will wear his ring proudly on the little finger of his working hand. James explains the ring is "a reminder of four years of hard work, all-nighters and struggles. It is a sign of accomplishment."

The day was extra special for James' family because his father, Souheil Afara, a member of Western Engineering's Chemical Engineering technical staff, ringed his son.

"It was an honour to ring my son," explains Souheil. "Like all other parents, I was very proud of my son's accomplishments and hard work. It was so nice to be a part of the ceremony."

The Iron Ring's purpose is to direct young engineers towards a consciousness of their profession, and remind older engineers of their responsibilities in receiving, welcoming and supporting younger engineers in their beginnings.
Also from this web page:
Contact
.: Allison Stevenson
Spencer Engineering Building, Room 2074
Telephone: (519) 850-2917 Fax: (519) 661-3808
contactweATeng.uwo.ca
---