Sarah Shortreed, BESc '89, to receive 2009 L.S. Lauchland Engineering Alumni Medal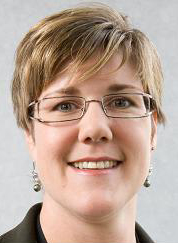 Selected by a volunteer committee of Western Alumni, this year's Lauchland Engineering Alumni Medal will be presented to Sarah J. Shortreed, BESc '89.

Ms. Shortreed is the Vice President, Planning and CIO Program Office with Research In Motion Limited. She has been involved in numerous community volunteer positions and has been the guest speaker at many engineering events promoting women in engineering.

Sarah has enjoyed a diversified career in industry since graduating from Western Engineering twenty years ago. She started her career at Union Gas where she held several technical engineering and management roles and then, in 1996, she moved to IBM. At IBM, Sarah was involved in various business units and quickly advanced to positions in Global Technology and Business Development. In May 2008, Sarah moved to Research in Motion where she is a Vice President.

Sarah is recognized in industry for both her professional expertise in IT, consulting and industry knowledge as well as for her commitment to the growth of women in technology and engineering. She was awarded the Mentor of the Month at IBM in April 2005 for her strong leadership and support to other employees.

Throughout her career, Sarah has been recognized as a champion for the involvement and promotion of women in engineering. She has participated on countless committees and was Chair of the PEO Women in Engineering Advisory Committee as well as the IBM Women in Technology Group. She has spoken in high schools, at events and conferences as an enthusiastic supporter of women in engineering.

Over the years, Sarah has remained very close to her alma mater. She has been an active member of Western Engineering's Advisory Council since 1993 and has provided a great deal of support and guidance to the student group, Women in Engineering.

The University of Western Ontario recognized Sarah's contributions to the community, engineering profession and the university as a whole back in 1999 with the Young Alumni Award. Today, Western Engineering is proud to honour Sarah again with the L.S. Lauchland Engineering Medal.

Sarah will be presented with the L.S. Lauchland Engineering Medal during Homecoming at the Engineering Cocktail Party & Lauchland Medal Presentation, taking place on Saturday, October 3 from 6:00 pm to 7:30 pm in the Richard Dillon Atrium of the Claudette MacKay-Lassonde Pavilion. Western's new President, Dr. Amit Chakma, will be in attendance to present Sarah with this award. You can RSVP by calling 519.850.2548 or emailing events@uwo.ca by September 28, 2009.

The L.S. Lauchland Medal is a prestigious award established in 1979 to mark the retirement of Professor Stuart Lauchland, founding member of the Department of Engineering Science at Western and Past President of APEO. The medal is awarded to a graduate of Engineering from the University of Western Ontario on the basis of outstanding contributions to the engineering profession, business leadership and community involvement.
Also from this web page:
Contact
.: Allison Stevenson
Spencer Engineering Building, Room 2074
T: .519.850.2917
F: 519.661.3808
contactwe@eng.uwo.ca
---