New $10,000 award available for a CEE/GRC graduate student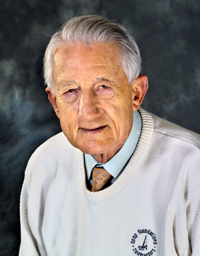 Bill Lardner and the company he co-founded, Deep Foundations Contractors Inc., have always been committed to seeking new and innovative ways to provide the products and services needed by the construction industry. They have brought a number of innovations to the deep foundations and shoring industry in Ontario: secant pile walls; soil anchors; CFA piles among others. He and his company have been involved in many of the projects that now define Toronto, including the CN Tower, the Rogers Centre (formerly known as the Skydome), Ontario Place, Toronto City Hall and the TTC expansion.

Lardner credits Western Engineering, and particularly retired professor, Dr. Hugh Peacock, for providing Deep Foundations Inc. with outstanding young engineering graduates who helped the company become an industry leader. Lardner and his wife Ruth decided to give back to Western by establishing an endowed graduate award for engineers who have spent some time working with industry and have decided to enhance their understanding of technical issues in the area of geotechnical/structural interface by returning to school to pursue a graduate degree.

Lardner hopes The William E. & Ruth Lardner Graduate Award will foster emerging leaders who will bring new and innovative ways to support unique geotechnical issues faced by the construction industry. The award is valued at $10,000 and will be available this year to a Civil & Environmental Engineering student in Western's Geotechnical Research Centre. It is permissible for the award to be made to one person for up to two consecutive years. Students must submit a one-page essay describing their work history, reason for pursuing graduate studies, and an outline as to how this award will assist them financially. This essay is to be submitted by June 30, 2010.

For more information on this award or to apply, please contact dlee@eng.uwo.ca or see http://www.eng.uwo.ca/research/grc/news.htm.

Individuals, corporations and foundations who are interested in establishing engineering scholarships, awards or bursaries can contact Western Engineering's Alumni & Development Officer, Virginia Daugharty for more information.
Also from this web page:
Contact
.: Allison Stevenson
Spencer Engineering Building, Room 2074
T: .519.850.2917
F: 519.661.3808
contactwe@eng.uwo.ca
---