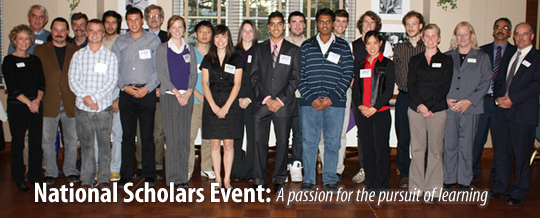 By Mphatso Mlotha

Western Engineering took great pride and pleasure in recognizing the accomplishments of its National Scholars at a special event held Thursday, October 14 at Michael's Gardens. The newest recipients include:

• Kaiz Alarakyia - F.K. Ashbaugh President's Entrance Scholarship
• Lauren Cuthberston - Dr. D. Carlton Williams President's Entrance Scholarship
• Anish Srinivasan Naidu - E.V. Buchanan Faculty of Engineering Entrance Scholarship

The event provided an opportunity for the honourees to meet and network with the Dean, Associate Dean (Academic), faculty, and staff.

"I was very pleased and honoured that an event was held to formerly acknowledge and give recognition to the recipients," said Kaiz Alarakyia.

Anish Naidu added, "I really enjoyed the event and it was very thoughtful of Western Engineering to conduct such an event that allows the new and existing National Scholars to meet. The food and hospitality was great too."

The National Scholarship Program is Western's most prestigious award for first-year undergraduate students, designed to recognize all-round excellence. The honorees have achieved an impressive combination of academic work (minimum of 90% on all Grade 12U/M courses), community involvement and extracurricular activities.

"Receiving a National Scholarship means a lot more to me than just a scholarship or a waiver of tuition fees," explains Naidu. "It was an opportunity for me to stand out of the crowd and be recognized in the Western community for what I have done and achieved in the past."

And, these recipients have certainly achieved great things to get where they are today.

"In India, the community kept me alive, so I did what I could for it," says Naidu. "Apart from my academics, I was a part of many programs that aimed at reducing poverty, illiteracy and pollution, and improving the environment, [as well as] my major work in Leprosy Eradication Program and Recycling Programs." The National Scholarships are awarded on the basis of outstanding academic performance to candidates who demonstrate ability for creative and innovative thought and a passion for the pursuit of learning.

For Alarakyia, his passion for learning is in the form of a Dual Degree. "I am very passionate about pursuing a double degree in Engineering and Business. I plan to work hard and pursue excellence in both these areas so that one day I will be able to give back to my community even more." Adding, "I am proud to be a recipient and want to live up to the expectations it deserves."

View photos from the event on Flickr.
Also from this web page:
Contact
.: Allison Stevenson
Spencer Engineering Building, Room 2074
T: 519-850-2917
F: 519-661-3808
contactwe@eng.uwo.ca
---