In Memoriam - Alan Davenport
By Paul Mayne
Engineering professor emeritus Alan Davenport, whose love of flying and fascination with the wind led to many scientific breakthroughs, has died at the age of 76 after a long struggle with Parkinson's disease.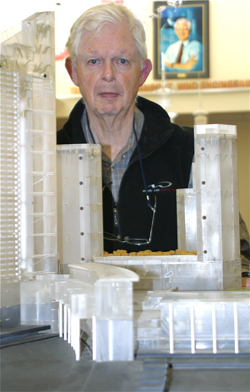 Alan Davenport
In lieu of a visitation and funeral service, a ceremony was held Thursday, July 23 at The University of Western Ontario's Boundary Layer Wind Tunnel, to which approximately 300 friends, family and colleagues attended.

"We are deeply saddened by the passing of our friend and mentor, Alan Davenport," says Peter King, Managing Director of the Boundary Layer Wind Tunnel Laboratory.

"He was truly an inspiration to all who knew him, particularly with his desire to make the world a better place through the application of knowledge."

King adds Davenport was driven to seek out practical solutions to the natural disasters that face mankind and inspired his colleagues and students to solve problems in a broad range of disciplines, not only in wind engineering, but in seismicity, wind/wave interaction, risk analysis and other fields too numerous to mention.

"Colleagues and former students who worked with him or studied under his guidance at the laboratory are now practicing in many countries throughout the world," says King. "Alan encouraged his students and colleagues and was proud of their accomplishments and openly celebrated their successes. He will be sorely missed by us all."

As a student at Cambridge University, Davenport joined the air squadron and flew between lectures. After completing studies at Cambridge and the University of Toronto, he flew with the Canadian Navy. He later joined the National Research Council, working on building design codes – and where he first developed an interest in wind loads.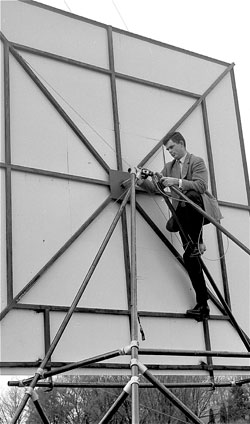 Alan Davenport of the School of Engineering Science, in this 1961 photograph, checks the load cell at the back of a 12-foot square plywood pane used in recording wind pressure on the board. Davenport would later mount wind gauges on the new 1,000-ft tower of CFPL-TV. In 1962, the school received full faculty status and Davenport began a distinguished career as founding director of the Boundary Layer Wind Tunnel. (London Free Press collection of Negatives/Western Archives)
He completed his PhD at the University of Bristol (England) in 1961, studying the effects of turbulent wind on long bridges and tall buildings.

Davenport was recruited to Western's Faculty of Engineering, then in its infancy. Since its establishment in 1965, the Boundary Layer Wind Tunnel Laboratory has been an international leader in research and testing.

As well as advancing scientific knowledge of wind, Davenport was part of numerous innovative design studies on major structures. Many of the tallest buildings and largest bridges in the world were tested in the laboratory.

Davenport pioneered the application of boundary layer wind tunnels to the design of wind-sensitive structures, the description of urban wind climates and other problems involving the action of wind.

He also contributed to the fields of meteorology, environmental loads, structural dynamics and earthquake loading. He developed the world's first statistically based seismic zoning map - for Canada - and wrote more than 200 papers, while also lecturing around the world.

Davenport was an engineering consultant on many major structures, including the world's tallest and longest: the World Trade Center in New York City, the Sears Tower (now the Willis Tower) in Chicago, the CN Tower in Toronto, the proposed 3,300-metre span, Messina Straits Crossing, in Italy, Normandy Bridge in France, the Great Belt East (Storebælt) Suspension Bridge in Denmark, and the Tsing Ma Bridge in Hong Kong.

These and other projects catapulted Western's wind tunnel into international fame, building a lasting reputation for wind expertise. Professor Hesham El Naggar, Associate Dean (Research and External Services) in the Faculty of Engineering, says its has been a "true pleasure" to have worked with Davenport.

"He was the best wind engineer in the world, working on some of the top landmarks worldwide," says El Naggar. "Western has become the Mecca of wind engineering and has earned a strong international reputation because of what he has accomplished here."

El Naggar recalls almost 20 years ago when he worked as a post-doctoral fellow with Davenport. Circumstances nearly required El Naggar to leave Western, but he still remembers what Davenport said.

"I still remember him telling me 'you have a place here at Western,'" he says. "I wouldn't be here if it wasn't for him. He has been a great mentor for many individuals here at Western and beyond – many more than he'll ever know. He's no longer with us, but I continue to love him for what he has done for me."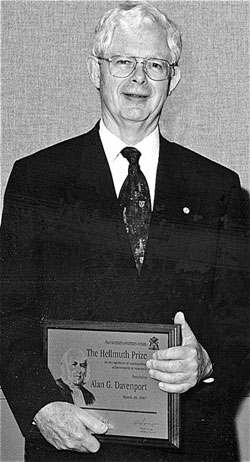 Alan Davenport was among the first recipients of the Hellmuth Prize in 1997. The award recognizes research achievement. (Alan Noon, Western News)
Davenport's consulting activities extended to major buildings, towers, offshore structures and pipelines throughout the world - contributing internationally to design standards.

His research and contributions are extensive and earned him numerous awards and accolades throughout his career, including Canada's highest honour for lifetime achievement when he was appointed a member of the Order of Canada in 2002.

In retirement, Davenport remained active with the Alan G. Davenport Wind Engineering Group, named in his honour at Western's Boundary Layer Wind Tunnel Laboratory. He was a founding member of the Western-based Institute for Catastrophic Loss Reduction - a centre aimed at reducing loss caused by severe weather and earthquakes.

Contributions can be made to the Alan G. Davenport Award established for a full time international graduate student from a developing country conducting research in civil and environmental engineering. Donations can be sent to:
The Alan G. Davenport Award c/o Virginia Daugharty, Alumni & Development Officer
The University of Western Ontario
Spencer Engineering Building, room 2073
London, Ontario, Canada, N6A 5B9
Also from this web page:
Contact
.: Allison Stevenson
Spencer Engineering Building, Room 2074
T: 519.850.2917
F: 519.661.3808
contactwe@eng.uwo.ca
---