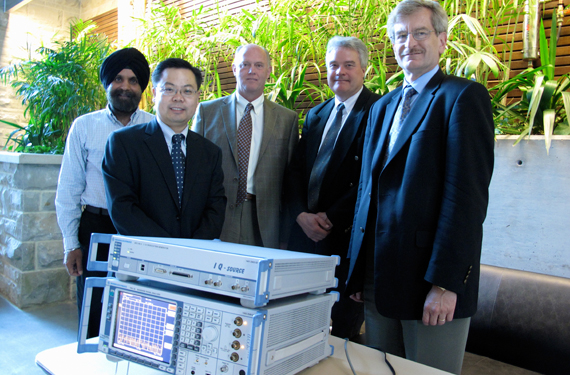 Equipment donation enhances wireless research at Western
A long-standing supporter of Canadian university research, Rohde & Schwarz Canada recently donated equipment valued at approximately $61,000 to Western Engineering's Laboratory of Emerging Communication Systems. This donation will support Electrical Engineering professor Xianbin Wang's research on cognitive and adaptive communication techniques for healthcare and multimedia applications.

Wang, who holds a Canada Research Chair in Wireless Communications, says the generous donation from Rohde & Schwarz Canada "provides unique capabilities for wideband arbitrary signal generation and analysis," allowing his research team to make a dramatic leap in the research and development of adaptive communication technologies.

Key components of the donated equipment include a broadband arbitrary signal generator, AFQ 100A, and baseband signal analyzer FMU36.

"Currently, various adaptive wireless transmission technologies are under intensive study and development at Western using several different DSP/FPGA development platforms," explains Wang. "The FMU36 from Rohde & Schwarz Canada will fit nicely with the existing DSP boards from TI and Innovative-DSP for the implementation of reconfigurable communication transceivers."

Wang further explains the wideband signal generator AFQ 100A will work well alongside the current high-speed multi-channel signal acquisition system from his Canada Foundation for Innovation (CFI) project to support a new position location technology and a new adaptive transmission technology for healthcare and multimedia applications.

"We had this specialized piece of equipment in our assets and wanted to find it a good home," explains Harry Kosterman, Account Manager, Rohde & Schwarz Canada. "When we became aware of Professor Wang's research, it made sense to donate the equipment to Western to support research and development and the student experience."

The equipment from Rohde & Schwarz Canada will be housed in the Thompson Engineering Building room 338, a dedicated facility at The University of Western Ontario.
Also from this web page:
Contact
.: Allison Stevenson
Spencer Engineering Building, Room 2074
T: .519.850.2917
F: 519.661.3808
contactwe@eng.uwo.ca
---