Christian Lassonde Scholarship encourages recipient to do more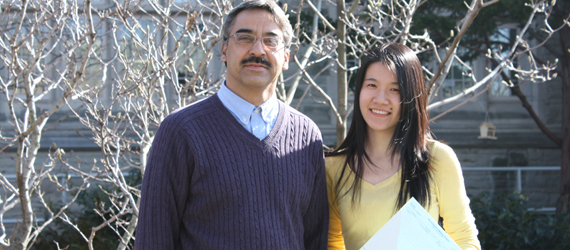 Jiemi Gao, a second-year Chemical Engineering student, thought she was being punked when she found out she received the Christian Lassonde Scholarship, valued at $10,000.

"I jumped up from my chair in great surprise wondering if it was just a prank as it was only two days before April Fool's Day," explains Gao.

After collecting her thoughts, Gao began to reflect on her accomplishments at University and realized she was being recognized for her hard work and many sucesses. But at the same time, the news of the award encouraged Gao to do more, not only academically but also out in the community.

"This scholarship marks not the end of my striving for excellence, but instead the outset of a higher level of achievement," says Gao. "Next year, I plan to be more involved in the engineering community by becoming a representative for Western at the 2011 Canadian Society for Chemical Engineering Conference as treasurer. The conference will be held at Western."

Gao will be entering the Richard Ivey School of Business next year as part of Western Engineering's Dual Degree program. She hopes to graduate from Western with a degree in Engineering and Business within three years time.

Gao has worked very hard to finance her university education solely on her own through scholarships and government loans. The Christian Lassonde Scholarship will support Gao's tuition at Ivey next year.

Read more about Western Engineering's undergraduate awards and scholarships.
Also from this web page:
Contact
.: Allison Stevenson
Spencer Engineering Building, Room 2074
T: 519-850-2917
F: 519-661-3808
contactwe@eng.uwo.ca
---