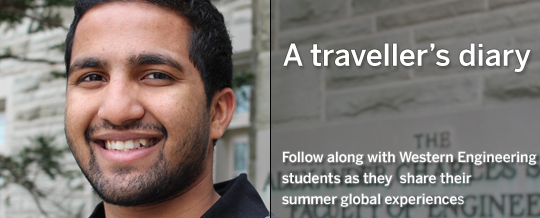 Western Engineering students trade textbooks for plane tickets this summer
Western Engineering News | May 8, 2012
From the United States, Russia and India to China, Tanzania and Madagascar, several Western Engineering students will be traveling abroad this summer to conduct research and gain hands-on experience. These students will bring back information and experiences that will inform future wind research, address complex world issues, such as lack of water and sanitation, and support the introduction of solar energy to a rural village in India.
Some of the students will be blogging this summer to share their experiences with the faculty, family and friends. Follow along as Western Engineering students make their mark on the world.
Anirudha Panditrao
Third-year Mechanical Engineering
Anirudha will be working with Professor Harinipriya at the Indian Institute of Technology, Rajasthan, May 7-Aug. 7, 2012 as part of the WE Go Global program. He will be part of a project studying the feasibility of photovoltaic utilities to power daily activities in a rural village near Jodhpur.
Follow along with Anirudha this summer.
You can also follow his journey here.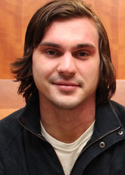 Jonathan Kusins
Third-year Mechanical Engineering
Jonathan will be visiting the Indian Institute of Technology, Rajasthan, to work with Professor Ravindra May 13-Aug. 15, 2012. He will be assisting with experiments on fused deposition model based 3D printers.
Read about Jonathan's experiences this summer.

Allen Chee
Third-year Mechanical Engineering
Allen will also be visiting the Indian Institute of Technology, Rajasthan May 13-Aug. 14, 2012 to conduct research.
Follow Allen's experiences this summer.
Shivani Chotalia (fourth-year Chemical Engineering) and Max Zhang (third-year Chemical Engineering)
Shivani and Max will be spending the summer in China at Zhejian University, as part of the WE Go Global program. Shivani will be at the university for 12 weeks (May-July, 2012) and Max will be spending 14 weeks (May-July, 2012).
Read more about their experiences this summer.
Nikita Babailov
Second-year Electrical Engineering
Nikita will be visiting St. Petersburg State University of Aerospace Instrumentation in Russia May 14-Aug. 14, 2012 as part of the WE Go Global program. As well, Nikita and first-year students Nicole Wight and Ogo Velikonja took part in a conference held at the university April 23-29, 2012.
Read about Nikita's experiences this summer.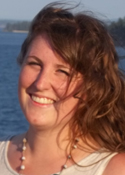 Western Engineering Association for International Development (WEAID)
Three Civil Engineering and International Development students will be travelling to Madagascar May 18-Aug. 9, 2012 to participate in a six-week anthropology engineering field course jointly organized by Western's Department of Civil and Environmental Engineering and Department of Anthropology.
This is an exciting new initiative combining the study abroad programs offered by the two departments with the aim of enhancing the exposure of the anthropology and engineering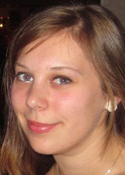 students to interdisciplinary perspectives on international development and environmental issues.
Following this field course the students will undertake a two-month placement with a renewable energy NGO and also an environmental conservation NGO (KOFAMA). The three students will be blogging throughout the summer about their experiences.
Check out their blogs here:
Elaine Samuel's blog
Victoria Trglavcnik's blog
Rebecca Solinger's blog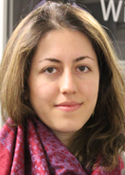 Maryam Rafan
PhD candidate, Mechanical Engineering
Maryam will be travelling across the central United States May 5-June 25, 2012. She will be joining a team of 30 people tracking tornadoes and using tornado pods outfitted with cameras and instrumentation to capture images, video and data from within a tornado. The data collected by Maryam will be used as a benchmark for simulations in the WindEEE Dome, the world's first hexagonal wind tunnel under construction at Western's Advanced Manufacturing Park.
Follow Maryam's journey this summer.
Find us on the map
Western Engineering students, faculty and staff are committed to being globally engaged. Check out our international activities on the "Western Engineering Around the World" map.
Find out more about international opportunities at Western Engineering.
Also from this web page:p>
Contact
.: Allison Stevenson
Spencer Engineering Building, Room 2074
T: .519.850.2917
F: 519.661.3808
contactwe@eng.uwo.ca
---