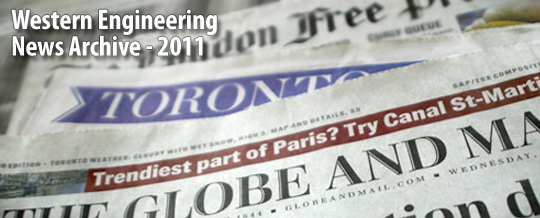 December 2011
Western News | December 22, 2011
The Faculty of Engineering and many University of Western Ontario services will be closed for the holiday period, Saturday, Dec. 24 through Monday, Jan. 2. A list of the hours of operation for some services across campus is available here. Western Engineering wishes everyone a safe and happy holiday season. [Read more]
---
Engineering News | December 21, 2011
Walking into the Faculty of Engineering's Electronics Shop is reminiscent of stepping into a toymaker's shop. There are hundreds of tiny drawers filled with colourful parts, strings of electrical wires, an elbowed magnifying glass hovering over the technologists' desks and fine tools awaiting use.
[Read more]
---
Purple Flash | December 12, 2011
PhD student and Ontario Graduate Scholarship (OGS) recipient, Mehdi Farrokhnejad is attracting a lot of attention. His research was recently ranked as one of the top seven brilliant ideas that could help the auto industry in the AUTO21 national TestDRIVE competition. He was also featured on the cover of Canadian Die Caster magazine for exploring new frontiers in magnesium die-casting.
[Read more]
---
Engineering News| December 6, 2011
Women In Engineering (WIE) placed a memorial wreath in remembrance of the 14 female victims at Ecole Polytechnique on the memorial plaque in the front garden of Spencer Engineering Building on Dec. 6. WIE also handed out white ribbons for the White Ribbon Campaign, a public education effort working to end violence against women.
[See photos]
---
Engineering News | December 1, 2011
WE FIRST robots helped launch the 2011 Business Cares Food Drive held in London Hall on Thursday, Dec. 1. Donations of non-perishable food items, baby formula or diapers can be dropped off at three locations in the Faculty of Engineering until Dec. 12: lobby of the Spencer Engineering Building (SEB), lobby of the Thompson Engineering Building and beside Tim Horton's in SEB.
[See photos]
November 2011
Western Engineering News | November 30, 2011
A team of 11 Western Engineering faculty, staff, students and friends climbed over 472 stairs at One London Place on Nov. 3 for the 'So you think you can Climb One London Place' stair climb fundraiser in support of the United Way of London & Middlesex. Western Engineering team captain, mechanical engineering professor Paul Kurowski, reports the team raised just over $1,000, crushing the team's goal of $600.
[Read more]
---
Engineering News | November 30, 2011
Western Engineering is pleased to acknowledge the publication of the latest book, "Wireless Multi-Antenna Channels: Modeling and Simulation" by Serguei Primak, Associate Professor and Acting Chair of Electrical and Computer Engineering. The book is co-authored with Professor Valeri Kontorovich, CINVESTAV, Mexico.
[Read more]
---
Engineering News | November 30, 2011
Like any company that lasts for 200 years, DuPont has had to adapt and renew itself in order to survive and thrive, says DuPont Senior Vice President and Chief Science and Technology Officer Douglas Muzyka.
[Read more] [Watch video]
---
Engineering News | November 28, 2011
Moyi Zhang of A.B. Lucas Secondary School proved her design skills are indestructible, winning 'Best Overall Bridge' and 'Best Bridge by a High School Student at the annual Polar Stick Bridge Competition hosted in the Faculty of Engineering on Nov. 25. Her bridge (Radar II) held more than 300 kg. without breaking.
[Watch a video (London Free Press)]
---
Peterborough Examiner | November 3, 2011
First-year engineering student Colin Sharpe has received numerous awards for his contributions to the community and academic and athletic standing. He was recently awarded the Roger Neilson/Toronto Maple Leafs Alumni Scholarship Award.
[Read more]
---
Western News | November 17, 2011
WORLDiscoveries helped Electrical and Computer Engineering professor Hanif Ladak develop his spin-off company, ENT Simulation Technologies. Find out how WORLDiscoveries helps Western researchers bring inventions to market.
[read more]
---
Western News | November 17, 2011
Taylor Eckert came to The University of Western Ontario on the back of a 120-pound robot. Now, the first-year engineering student wants to offer today's high school students the same ride.
[read more]
---
Engineering News | November 7, 2011
Two Western Engineering professor emeriti have passed away over the weekend: Ion Inculet passed away November 5, 2011 in his 91st year and William Hubert (Hugh) Peacock passed away November 5, 2011 in his 83rd year.
[read more]
---
Western Engineering News | November 4, 2011
The Second Annual Western Engineering Leader's Reception took place Nov. 3 in Toronto, ON with approximately 70 alumni and friends in attendance. The event featured a panel discussion with three expert guests including: world renowned structural engineer, Leslie E. Robertson, DSc'88; SawTeen See, managing partner at Leslie E. Robertson Associates; and Richard Nemeth, a registered architect from New York.
[read more]
October 2011
Engineering News | October 31, 2011
Alexandra Bruce, a student who completed her second year of studies in Civil Engineering at Western before taking a break to prepare for the Pan Am Games, has won a gold medal in women's doubles in badminton. Alex will return to Western in 2012 to complete her Civil Engineering degree.
[read more about Alexandra's gold medal (Globe and Mail)]
Conor Trainor, fourth-year Civil Engineering, also won a gold medal in rugby. "To win gold here has just been incredible. To have a 12-man effort, to play for each other, to go all out for the whole game until we couldn't run anymore – it's just so satisfying. I'm so happy for the boys and for Canadian rugby. It's going to be a highlight of my life."
Reid Halpenny, BESc'11, placed 6th at the games in volleyball.
---
Western News | October 25, 2011
Companies don't last for 100 years by being stagnant. In order to survive and thrive the changing business environment, companies have be adaptive and be willing to cut loose any ideas or products that are tethering you to the past, says Bruce Ross, BESc'85, president of IBM Canada.
[read more]
---
Engineering News | October 24, 2011
Alexandra Bruce, a student who completed her second year of studies in Civil Engineering at Western before taking a break to prepare for the Pan Am Games, has won a gold medal in women's doubles in badminton. Alex return to Western in 2012 to complete her Civil Engineering degree. Conor Trainor, fourth-year Civil Engineering, and Reid Halpenny, BES'11, will also compete at the games this week. Trainor in Rugby and Halpenny in rugby.
[read more about Alexandra's gold medal (Globe and Mail)]
---
Western News | October 21, 2011
An American researcher, who will receive the National Medal of Technology and Innovation from President Barack Obama later today in a White House ceremony, headlines the 61st Canadian Chemical Engineering Conference (CSChE2011), which will be hosted by The University of Western Ontario at the London Convention Centre Oct. 23-26.
[read more]

---
Western News | October 20, 2011
While available to many, the flush toilet remains non-existent to a vast majority of the developing world. Jason Gerhard, associate professor in civil and environmental engineering, hopes to play a key role in bringing safe, reliable and sanitary toilets to billions around the world.
[read more]
---
FIRST Canada website | October 2011
This year marks a significant chapter for FIRST Robotics in London, ON. After their strong support for the two fledgling FIRST teams in London last year, Western Engineering has furthered its commitment by starting a FIRST Robotics Mentorship Club where FIRST alumni attending Western as well as other FIRST enthusiasts can lend a hand in the upcoming season.
[read more]
---
Western News | October 3, 2011
Chemical Engineering professor Charles Xu was named Industrial Research Chair in Forest Biorefinery, a joint venture between Western, the Natural Sciences and Engineering Research Council of Canada (NSERC) and FPInnovations. The announcement was made this morning (October 3) at the Institute for Chemicals and Fuels from Alternative Resources (ICFAR).
[read more] [London Free Press article]

---
Western Engineering News | October 2, 2011
Western Engineering welcomed over 50 alumni and friends to campus for Homecoming 2011. Guests enjoyed the chance to mix and mingle at the annual Western Engineering Open House, held in the Richard Dillon Atrium of the Claudette MacKay-Lassonde Pavilion before the Homecoming football game. Current students, faculty, and staff were on-hand to chat with alumni and friends about current projects and priorities within Western Engineering.
[read more]
---
By Heather Travis | October 1, 2011
A Styrofoam plate, cardboard, tape, a cup and string might look like a menagerie of objects, but to J.J. VanGoozen, the collection presents an interesting design challenge. VanGoozen was one of 79 young women in Grades 7-10 who participated in Western Engineering's Go ENG Girl even on October 1, 2011.
[More]
September 2011
Engineering Dimensions Magazine | September/October 2011 Edition
Although the term "software" entered the vocabulary nearly 50 years ago, its association with the term "engineering" has been a problem area for engineering regulators for only about the last dozen or so years. Luiz Capretz, Western Engineering's Assistant Dean (IT and e-learning) and professor in Electrical & Computer Engineering, offers his insight into the software engineering program.
[read more]
---
Engineering Dimensions Magazine | September/October 2011 Edition
The first class of Software Engineering students graduated from Western in 2001, making 2011 the 10th anniversary of the program. Rupinder Mann, BESc'02, and Darcy Backert, BESc'01, two Western Software Engineering graduates, talked with Engineering Dimensions about how software engineering is practiced today.
[read more]
---
Western Engineering News | September 30, 2011
Western Engineering is proud to host a number of visiting professors from around the world throughout the academic year, and the summer months. Visiting professors bring exceptional knowledge with an international perspective to enrich our undergraduate and graduate programs and research endeavours.
[read more]
---
Media Relations | September 22, 2011
The Fraunhofer Institute for Chemical Technology ICT, Europe's largest application-oriented research organization, and The University of Western Ontario will work together on developing and processing composite materials for lightweight vehicles in the joint Fraunhofer Project Center for Composites Research @ Western – the world's latest state-of-the-art equipped press centre in full industrial scale.
[read more]
---
London Free Press | September 22, 2011
Even before shovels turn the soil for a new high-tech research facility for composite materials in London, the Fraunhofer Institute has signed contracts with leaders of the auto industry.
[read more]

---
Western Engineering News | September 19, 2011
Western's first LEED gold certified green building – the Claudette MacKay-Lassonde Pavilion (CMLP) – is looking greener these days thanks to a generous donation from the TD Friends of the Environment Foundation.
[read more]
---
Western News | September 15, 2011
Chemical Engineering professor Kibret Mequanint's work in the area of tissue engineering has taken the next step toward helping thousands of Canadians with vascular problems.
[read more]

---
By Agnes Chick | September 13, 2011
Sunwei Li and Mohammad Abrar Alam Khan are the first two recipients of the revised Alan G. Davenport Award.
[read more]
---
By Agnes Chick | September 12, 2011
The Chemical Institute of Canada - Canadian Green Chemistry and Engineering Network (CGCEN) has announced Franco Berruti, Director (General) of the Institute for Chemicals and Fuels from Alternative Resources and Chemical Engineering Professor at The University of Western Ontario, is the 2011 recipient of The Ontario Green Chemistry and Engineering Award (Individual).
[read more]
---
London Community News | September 11, 2011
Covered in Mustang purple, chanting with enthusiasm and craving the shade, students dedicated their Saturday (Sept. 10) to a time-honoured tradition.
[read more]

---
National Post | September 10, 2011
At the University of Western Ontario, there are three labs devoted to the study of wind engineering, built with the goal of researching safer home building. The information and data provided by such tests will be available to home builders, architects and engineers, as well as to government bodies and whoever writes building code.
[read more]
---
Western Media Relations | September 9, 2011
One of the earliest projects for the Boundary Layer Wind Tunnel Laboratory (BLWTL) was the iconic World Trade Center (WTC) in Lower Manhattan. Western's involvement with the WTC complex of buildings continues today with its testing of the new Port Authority Trans-Hudson (PATH) Terminal building, designed by renowned architect/engineer, Santiago Calatrava of Valencia, Spain.
[read more]
---
Canadian Journal of Civil Engineering | September 2011 edition
Mike Bartlett, professor of Civil & Environmental Engineering at Western and co-editor of the Canadian Journal of Civil Engineering (CJCE), has facilitated a special issue of the journal honouring the late Alan Davenport. The September 2011 edition includes six papers and two technical notes, authored primarily by Davenport's colleagues and former students, capturing the breadth and depth of Davenport's research and curiosity.
[read the full tribute]
---
Western Engineering News | September 6, 2011
Western Engineering researchers Franco Berruti and Jeffrey Wood were among University of Western Ontario recipients receiving Ontario Research Funds this summer.
[read more]

---
Western Alumni Gazette | Fall 2011
With Western connections stretching back 70 years, Bocking family members have been energetic students (some engineering), faculty, administrators, volunteers and philanthropists at their alma mater.
[read more]
---
Western News | September 1, 2011
Two Western Engineering professors were among a group of eight Western researchers to receive funding from the Canada Foundation for Innovation (CFI). Robert Sobot (Electrical & Computer Engineering) received $202,400 for his project, Design and test laboratory for implantable integrated circuits, and Claire Robinson (Civil & Environmental Engineering) received $222,982 for her project, Groundwater-coastal water interactions laboratory.
[read more]

August 2011
io9 | August 30, 2011
University of Western Ontario civil engineer Slobodan Simonovic, who has worked on flood models both in Canada and the US, told io9 that New York City's response was ideal, given the circumstances.
[read more]
---
Western News | August 25, 2011
Think of algae. Is the first thing that pops to mind a thick, slimy green blanket covering portions of open water? If so, Amarjeet Bassi asks you to look at it a different way.
[read more]
---
Engineering News | August 25, 2011
Tarlochan S. Sidhu, chair of the department of Electrical & Computer Engineering at Western has been appointed dean of the Faculty of Engineering and Applied Science at the University of Ontario Institute of Technology (UOIT).
[read more]
---
Business London | August 2011
Jennifer MacDonald, BESc'94, MESc'95, proved oil does float to the top when her Omega 3 salad dressing won her a deal with the 'Dragons' on CBC-TV's Dragons' Den in early October 2006. Now Chief Operating Officer of Agri-Therm Inc., Jennifer is turning agricultural waste into oil with Agri-Therm's new portable technology.
[read more]

---
Communications Staff | August 3, 2011
Western Engineering student Ahmed Hamada joins his peers from Western - Katie Kryski, Donald Lafreniere, Matthew Quinn, Fabrice Szabo and Jodie Whelan - as recently named recipients of the Vanier Canada Graduate Scholarships, the country's most prestigious scholarships for doctoral students.
[read more]

July 2011
Video posted to YouTube by The University of Western Ontario | July 15, 2011
Ashraf El Damatty is hoping a mesh of wire cables installed on the roof of a home will give it the strength to withstand severe windstorms -- and possibly hurricanes. So far the tests have proven him right.
[watch the video]
---
London Free Press | July 15, 2011
More than $3.4 million has been awarded to researchers at the University of Western Ontario to help pioneer ideas such as environmentally friendly uses for cow manure and to create new materials in their labs.
[read more]
---
Western News | July 14, 2011
From the formation of stars and the risks of earthquakes, to the development of green biological waste treatment technologies and accessible software, Western researchers received a financial boost from the Natural Sciences and Engineering Council (NSERC) to further their work.
[read more]
---
By Agnes Chick | July 13, 2011
Thomas Butler, fourth-year Green Process Engineering, recently won the FortisBC Community Energy Challenge, a competition held in conjunction with the International Student Energy Summit (ISES) in Vancouver, B.C., from June 9-11, 2011.
[read more]
---
By Agnes Chick | July 13, 2011
Charles Xu, associate professor of Chemical & Biochemical Engineering at Western, was recently announced as the 2011 winner of the Canadian Society for Chemical Engineering (CSChE) Syncrude Canadian Innovation Award for his outstanding contributions to the chemical engineering field.
[read more]
June 2011
London Free Press | June 28, 2011
Ashraf El Dammaty, an engineering professor at Western, is testing a system designed to keep the lid on devastating hurricane damage. Created by Steelcon Engineering of St. Catharines, the system uses steel cables and/or mesh to tie down and reinforce a wooden roof to keep it from blowing off during a hurricane.
[read more]

---
Western News | June 23, 2011
London Mayor Joe Fontana has appointed Western biochemical engineering professor Argyrios Margaritis to a three-year term on the Mayor's Council for Sustainable Energy. Members include representatives from local energy utilities, business sector, educational sector, Western, Fanshawe College and members from the London Economic Development Corporation.
[read more]

---
Western News | June 21, 2011
Four Western alumni have served as president of IBM Canada. Three are Western Engineering alumni: John M. Thompson, BESc'66, LLD'94, was elected president in 1985, CEO in 1986 and chair from 1988-91; Bill Etherington, BESc'63, LLD'98, was president from 1991-95; and Bruce Ross, BESc'85, has headed the firm since 2010.
[read more]
---
Western News | June 15, 2011
Western Engineering's former dean, Mohan Mathur, made it clear to Western's newest engineering graduates that they are standing at the threshold of an important day in their lives, and whenever possible they should have the courage to lead and not follow.
[read more]
---
Western Engineering News | June 15, 2011
Ehsan Salamati, an electrical engineering graduate student working under the supervision of electrical engineering professors Hanif Ladak and Abbas Samani, and Sumit Agrawal (Otolaryngology), won first place in the Student Paper Competition at the 34th annual Canadian Medical and Biological Engineering Conference.
[read more]
---
By Agnes Chick | June 13, 2011
Catherine Karakatsanis, BESc '83, MESc '91, has recently been appointed President-Elect of Engineers Canada for the 2012–2013 term, beginning in May 2012.
[read more]

---
Western News | June 10, 2011
University of Western Ontario professor Rajnikant Patel has been named among Canadian researchers backed by a Collaborative Health Research Projects (CHRP) program funding the development of new treatments for lung, breast and ovarian cancers, as well as other life-threatening diseases.
[read more]

---
Western News | June 9, 2011
Mechanical and material engineering assistant professor Liying Jiang has been named The University of Western Ontario's Petro-Canada Young Innovator for 2011-12.
[read more]

---
Western Engineering News | June 1, 2011
The annual Western Engineering Faculty & Staff Awards Celebration took place May 24, 2011 in The Great Hall, Somerville House. Over 90 faculty and staff members gathered to celebrate Western Engineering's successes and honour the 2010 Western Engineering award recipients: Hesham El Naggar, Denis O'Carroll, Joel Eckert, Diana Lee and Chris Vandelaar.
[view the 2010 - 2011 Awards & Accomplishments Presentation – PDF]
May 2011
By Agnes Chick | May 30, 2011
Ernest Yanful, Western's department chair for Civil & Environmental Engineering, received the Harvey Rosen Award for his paper, "Advanced Oxidation Treatment of Drinking Water: Part 1. Occurrence and Removal of Pharmaceuticals and Endocrine-Disrupting Compound from Lake Huron Water."
[read more]

---
By Agnes Chick | May 30, 2011
Western Civil & Environmental Engineering professor Moncef Nehdi has been awarded the 2011 Bill Curtain Medal for his paper, "Paintcrete leachability in fresh water and marine environments", published in the Journal of Waste and Resource Management of the Institution of Civil Engineers (ICE).
[read more]

---
By Agnes Chick | May 26, 2011
Western Civil Engineering graduate student Reid Halpenny will receive the Honorable Howard G. Ferguson Award upon graduation, which is intended to recognize a student who has shown the highest achievement during his or her university career in athletics, scholarship and university life.
[read more]

---
By Agnes Chick | May 26, 2011
The Canadian Society of Mechanical Engineering (CSME) will be awarding experts in the mechanical engineering field for their exceptional expertise in the industry. Among those being recognized is Western's Mechanical & Materials Engineering professor Kamran Siddiqui, who has been elected to Fellow of CSME for his excellence in mechanical engineering and contributions to the profession.
[read more]
---
By Agnes Chick | May 26, 2011
The first group of 13 students to complete the new Practical Elements in Mechanical Engineering program offered through Western's Mechanical & Materials Engineering department and Fanshawe College now has the practical skills to put them at the top of the industry's graduates.
[read more]
---
CHCH News | May 24, 2011
Civil Engineering professor Horia Hangan spoke with CHCH News about the work he is doing with the WindEEE Dome to better equip people with the knowledge needed to build structures to withstand the force of tornadoes.
[read more]

---
London Free Press | May 13, 2011
Western Civil Engineering professor Denis O'Carroll comments on new brownfield remediation technologies.
[read more]

---
Impact Western | Spring 2011
Western's Dean of Engineering, Andrew Hrymak, has worked alongside faculty, staff, students, alumni and friends to set a new direction for the Faculty. The ultimate goal: to become internationally recognized for the excellence and impact of its research and for providing students with high quality, enriched undergraduate and graduate programs.
[read more]

---
Impact Western | Spring 2011
Miniature tornadoes are swirling in the Faculty of Engineering, with the completion of a functional small-scale model of the Wind Engineering, Energy and Environment (WindEEE) Dome.
[read more]

---
April 2011
Western News | April 28, 2011
Xianbin Wang, Electrical & Computer Engineering, was awarded $47,850 to support his project, "Integrated wireless system for local area positioning, tracking and communications."
[read more]

---
Alumni Western | April 27, 2011
A team of 20 young alumni from Western, including Western Engineering alumnus Justin Philippi, BESc'10, will make a impact in New Orleans through a service-learning experience with Habitat.
[read more]
---
Western News | April 21, 2011
Brandon McRae and fellow first-year engineering students have designed a guillotine-like 'Paper Decapitator' to take covers off hardcover books so they can be recycled. The innovative design was a solution proposed for Goodwill Industries' problem of being unable to recycle hardcover books.
[Read more] [Watch the video]

---
Western News | April 14, 2011
Former Western dean of Engineering, Mohan Mathur, will receive an honorary degree when The University of Western Ontario hosts its 297th Convocation this June.
[read more]
---
Western Engineering News | April 13, 2011
Sixty students from Western's Chemical & Biochemical Engineering Department were in Sarnia on March 23, presenting their final design projects to a panel of judges from local industry at the Sarnia-Lambton Campus of The Research Park. The annual Capstone Competition provides graduating students an opportunity to present their design projects to industry and community leaders from Sarnia-Lambton, who evaluate each presentation.
[read more]
---
Western Engineering News | April 12, 2011
Western Engineering is dedicated to the advancement of learning through teaching and research and the discovery and application of knowledge in various engineering disciplines. We are proud to offer a number of awards to recognize the accomplishments of faculty and staff. This year's award recipients include Joel Eckert, Hesham El Naggar, Diana Lee, Denis O'Carroll, and Chris Vandelaar. Awards will be presented at the annual Western Engineering Faculty & Staff Awards Banquet.
[read more]

---
Western News | April 7, 2011
While constant conversion surrounds innovation and sustainability within the field of engineering, merging the two may not be as easy at it seems, according to Western engineering graduate Michelle Chislet.
[read more]

---
Engineering Dimensions | March/April 2011
Spurred on by climate change and international development concerns, engineering educators are revising curricula to include working sustainably as an expected engineering competency. Western Engineering faculty and students provide their thoughts on the topic. (page 28)
[read more]

March 2011
Western News | March 24, 2011
Marsha Cooke, third-year Faculty of Engineering student, is one of this year's winners of the annual Green Awards, an honour recognizing students, faculty and staff members who have made positive contributions to sustainability at the university.
[read more]

---
Western News | March 24, 2011
It might just look like a piece of hammered metal circling his pinky finger, but to Aaron Mohammed the symbolic iron ring serves as a constant reminder of where he has come from and the type of person he aspires to be.
[read more]
---
Western Engineering News | March 23, 2011
The Faculty of Engineering at The University of Western Ontario was among the first three schools in Canada to officially launch an undergraduate Software Engineering program in 1999. McMaster University and the University of Ottawa also launched a program at the same time. The first group of students from our program, within the Department of Electrical & Computer Engineering, graduated in 2001 – the same year the program was accredited by the Canadian Engineering Accreditation Board.
[read more]
---
The Weather Network | March 18, 2011
It's the first wind tunnel of its kind and The University of Western Ontario in London is home to the latest technology.
[read more]
---
Western Engineering News | March 17, 2011
The best and the brightest engineering students in Canada gathered March 10 -13, 2011 at McGill University for the 2011 Canadian Engineering Competition (CEC). A group of four Western Engineering students competed in the Consulting Engineering category, bringing home the first place trophy.
[read more]
---
New Scientist | March 14, 2011
Ever wanted to make your own tornado? Now a new $23.6 million hexagonal wind tunnel in Canada will allow scientists to do just that. Once complete, the Wind Engineering, Energy and Environment Dome (WindEEE Dome) will be the world's first large, hexagonal wind dome. It is designed to produce complex wind systems such as tornadoes, downbursts and gust fronts that cannot be replicated in any existing wind tunnel.
[read more]

---
By Mphatso Mlotha | March 11, 2011
Selected by Western Engineering's graduate committee, on the recommendation of the Associate Dean, Research and Graduate, Elsayed ElBeshbishy and Yuanyuan Shao are the newest recipients of the Ross and Jean Clark Scholarships.
[read more]
---
Western News | March 10, 2011
Fourth-year civil and environmental engineering students at The University of Western Ontario got a taste of how to sell their engineering designs to a real world audience at the 15th annual City of London Design Competition.
[read more]
---
Western Engineering News | March 3, 2011
Tri-fuel: Exploring Choice. This sounds like a great title for a chemical engineering lecture series but Western Engineering's most recent alumni event, with this name, had a bit of a twist.
[read more]
February 2011
Ontario Ministry of Research and Innovation | Posted March 7, 2011
A brother and sister duo, both alumni of Western, have made it possible for medical students and soon-to-be surgeons to simulate and practice surgery on fake tissues. The up-and-coming entrepreneurs created LifeLike BioTissue, a company that manufactures and produces 'life like' replicas of different vessels, skin and soft tissues. Leonardo Millon, a researcher at the University of Western Ontario, and his entrepreneurial-minded sister, Karen Millon, a graduate of the Richard Ivey School of Business, started the company in 2009.
[read more]
---
London Free Press | March 2, 2011
Western's new WindEEE dome project is sailing along, with the completion of a working scale model. When completed next year, the $23.6-million hexagonal structure will be the most advanced wind-research facility in the world, according to Western.
[read more]

---
By Mphatso Mlotha | February 14, 2011
Slobodan P. Simonovic, Civil and Environmental Engineering professor at The University of Western Ontario and Director of Engineering Studies with the Institute for Catastrophic Loss Reduction, has been honored with a nomination to serve as the Associate Editor of the Journal of Flood Risk Management.
[read more]
---
By Hendrik Westerink | February 14, 2011
After over half a year of preparation and hard work, the Western Engineering Toboggan Team recently took their 2011 toboggan to the 37th Annual Great Northern Concrete Toboggan Race (GNCTR), at the University of Alberta. The competition took place January 26 to 30, 2011, and included over 20 teams from engineering schools from across Canada. Each team designed and built a toboggan with all running surfaces made entirely of concrete. Other design criteria included a 300 lb. weight limit, a safe roll bar, and a five-rider capacity.
[read more]
---
Jin Jiang elected a Fellow of the EIC
By Mphatso Mlotha | February 7, 2011
The Engineering Institute of Canada (EIC) has announced the 2011 recipients of its honor awards and fellowships. Jin Jiang, professor of Electrical & Computer Engineering at Western and NSERC/UNENE Senior Industrial Research Chair is among 20 engineers who will be inducted as Fellows of the EIC, for their exceptional contributions to engineering in Canada.
[read more]
---
Western teams up on unique wastewater project
Western News | February 3, 2011
The University of Western Ontario, City of London and local industry are partnering on what may be a global-leading site for water treatment technology development, commercialization, validation and testing. The International Water Excellence Centre (IWEC) looks to be a globally unique facility to provide a wastewater treatment plant for full-scale development/testing of new technologies related to wastewater treatment, nutrient recovery and energy production from municipal waste. More crucially, it will shorten the time to market for these new technologies, and provide the critical link between the private and public sectors.
[read more]
January 2011
OEC 2011 to be held at Western - WEC winners to compete
By Mphatso Mlotha | January 31, 2011
Western's best in engineering talent competed at the Western Engineering Competition (WEC), from January 14 to 16, 2011. The journey continues for the 2011 WEC winners as the top teams from each category will compete in the Ontario Engineering Competition (OEC), taking place at Western from February 4 – 6, 2011.
[read more]
---
Awarding excellence from our staff
Western News | Thursday, January 27, 2011
Jan Shepherd McKee, associate director (Undergraduate Services), is among this year's top staff members to receive the Western Award of Excellence. The internal award is designed to recognize the tremendous work staff performs in support of providing the best student experience.
[read more] [watch video]
---
BIC and ICFAR agree to collaborate on biotechnology
Western News | January 26, 2011
The Bioindustrial Innovation Centre (BIC) has entered into a collaboration agreement with Western's Institute for Chemicals and Fuels from Alternative Resources (ICFAR) that will accelerate the development and introduction of Canadian biofuels, renewable chemicals and co-products into the marketplace.
[read more]
---
CFI announces $2 million in funding for Western
Western News | January 21, 2011
Six projects at Western are sharing nearly $2 million in funding from the CFI, including a project by Chemical Engineering professor Lars Rehmann: $299,474 – Applied Biotechnology Laboratory.
[read more]
---
Partnership helps builds 'useful' engineers
Western News | January 20, 2011
When mechanical engineering students leave university, they have a steep learning curve ahead of them on the job. But for some students at The University of Western Ontario, this is about to change.
[read more]
---
Two Western Engineering projects receive funding from NSERC Strategic Program Grants
Western News | January 20, 2011
Three Western projects will share in nearly $1.2 million in new funding from the Natural Sciences and Engineering Research Council of Canada (NSERC) to support early-stage research. Projects from Western Engineering: Mechanical & Materials Engineering professor Andy Sun, received $410,000 to develop novel, graphene-based carbon nanomaterials that will be used as electrocatalyst support for low-cost, high-durability fuel cells; and Chemical & Biochemical Engineering professor Amarjeet Bassi will work with Ajay Ray and partner with Stanton Farms in Ilderton, Ontario to help farmers extract the maximum value from their operations.
[read more]
---
Building blocks of an engineer
Western News | January 20, 2011
In one summer, while his friends were blowing off steam in the Muskoka area, fifth-year civil engineering student Nick de Koning, put hammer to nail to help build a dream house for his parents in Bracebridge, ON.
[read more]
---
Concrete sled built for speed
London Free Press | January 19, 2011
Engineering students at the University of Western Ontario hope a concrete slab weighing 72 kilograms will bolster the success of the faculty's toboggan team. The team unveiled its new design Tuesday — a 160-kg toboggan, sleeker than previous models and similar to a bobsled, with a concrete slab as its base.
[read more]
---
Engineering Development
Research Western Newsletter | January 2011
For Ernest Yanful, the field of engineering is more than just a profession – it is an opportunity to foster economic, environmental and human resource development that creates positive change around the world.
[read more]
---
Experiential education produces exponential benefits
Impact Western | Winter 2010
"I experienced the power of community - of people coming together no matter what race, gender or religion and helping each other rebuild after a disaster." This is a lesson fourth-year Engineering/Business student Sylvia Broschinski says she learned and can apply right here at home, thanks to the RBC Foundation.
[read more]
Also from this web page:
Making Headlines 2009
Contact
.: Allison Stevenson
Spencer Engineering Building, Room 2074
T: 519-850-2917
F: 519-661-3808 contactWE@eng.uwo.ca
---