more2life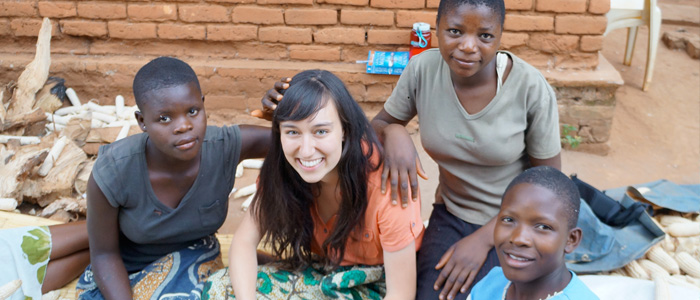 At Western Engineering we recognize that diversity in our student body drives creativity and innovation. Because of this, we support all of our students irrespective of gender, age or ethnicity in the pursuit of knowledge, excellence, and happiness.
Support and Mentorship for Women
Success in and beyond your degree is not solely dependent upon your academic ability and effort. At Western, engineering is a team sport. Your success is our collective responsibility and we have put in place numerous resources to ensure that you get the support you need to achieve your goals.
Women in Engineering is a student group working to empower and encourage current and prospective female engineering students.
The Big Sister, Little Sister program is a mentorship program for female engineers that pairs an upper-year student with a first-year student. They attend many Women in Engineering events throughout the year and often develop lifelong friendships.
Numerous volunteer opportunities: Not only will we ensure that you receive the mentorship and support you need, but through our outreach programs including Go ENG Girl, Discovery Western and our high school mentorship program you would have the opportunity to mentor young women on their path to engineering. This is a great opportunity for you to share your passion for what you do and simultaneously develop your own leadership potential.
Orientation Week
Western University offers a fun and informative Orientation Week (O-Week) experience. We encourage you to join in and attend the events, including Faculty Day, which features a welcome from the dean and associate dean, academic, as well as an opportunity to meet first-year professors, faculty, staff and students. The Engineering Soph team plans a fun-filled day of activities for the remainder of the day.
Changing Our World, One Engineer at a Time
Engineering is a creative, engaging and rewarding profession where people solve problems, design solutions, help local and global communities and love what they do. With a bachelor's degree, graduates are industry-ready to work in urban centres and rural communities all over the world.
We provide numerous opportunities to develop leadership potential and to engage in applied learning, whether it be through labs, research opportunities, international exchanges or philanthropic programming, such as Engineers without Borders or Western Heads East.
The Engineering Leadership and Innovation Certificate is a great option for students looking to complement their specialized engineering degree with management, leadership and innovation knowledge. The certificate is designed for students wanting to fill Canada's current innovation gap.
The Global and Intercultural Engagement Honor allows students to incorporate both curricular and extracurricular activities. Students awarded this honor will be global-ready graduates: you will have the skills required to negotiate an increasingly globalized reality, both professionally and personally. This Honor will appear on your official transcript upon graduation.
Engineers Without Borders creates opportunities for rural Africans to access clean water, generate an income from small farms, and have improved access to the services and infrastructure they need to improve their lives. We harness the problem-solving approach and creative pragmatism of the Canadian engineering sector to address the root causes of poverty in rural Africa.
Western Heads East is Western's Community Response to the HIV/AIDS crisis in Africa. The goal of the Western Heads East program is to establish disease-fighting probiotic yoghurt programs in highly underserviced areas of Sub-Saharan Africa with alarmingly high rates of HIV/AIDS infection. At the heart of the program is the empowerment of women, "Yoghurt Mamas", to establish community kitchens that make a sustainable difference in African communities economically and physically.
International Exchanges and Study Abroad Opportunities: Western Engineering has made several partnerships with institutions throughout Canada and the world to provide third-year Engineering students with an opportunity to study outside of Western. Exchanges and study abroad courses are an excellent way to explore and learn. For more information, please visit Western International. For a complete list of outgoing exchange partnerships, please visit the International Exchange Program website.