Welcome
Dr. A. N. Hrymak, PhD, PEng
Professor and Dean
Faculty of Engineering
Dept. of Chemical & Biochemical Engineering
Research Interests
I am interested in problems with complex rheology, multiple phases and multiple length scales - e.g. liquid-liquid dispersions and particle-liquid flows.
Our group does computer simulation and experiments in a number of important polymer processing operations, including: mixing (twin-screw extruders, static mixers, impingement mixing), die design, reactive processing, injection molding, liquid coating and rheology.
We use computational fluid dynamics, finite element and finite volume methods, for problems with free and moving boundaries, as well as complex interfaces.
Most of the problems I work on are materials processing related, usually with an industry sponsor.
Professional Activities
Associate Editor, Computers and Chemical Engineering
Editor-in-Chief, International Polymer Processing
Also from this web page: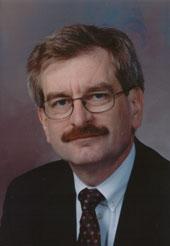 Contact Information
Office of the Dean
Spencer Engineering Building
Rm 2008
PH: 519-661-2128
Fax: 519-850-2399 hrymak@eng.uwo.ca
---