News Archive - 2010
Fall/Winter 2010
Western engineered toilet valve now saving water
Western News | November 23, 2010
When Masco Canada was looking to expand one of its tried and true products with an environmental feature, the plumbing giant tagged a pair of engineers from The University of Western Ontario to flush its problem away. Tony Straatman and Kamran Siddiqui, two Western Engineering professors who specialize in mechanical engineering, were asked to re-configure a mechanical valve known as the Teck® II that has been used in toilets for more than 80 years.
[read more]
---
Professor Slobodan Simonovic releases new textbook on disaster management
By Mphatso Mlotha | November 22, 2010
"Alleluia!" is the opening word found in the forward section of Slobodan P. Simonovic's new textbook, Systems Approach to Management of Disasters: Methods and Applications. The forward, written by Professor Emeritus Dr. Burton, emphasizes the long awaited arrival of a book, published in a way to revise and revolutionize approaches to management of disasters.
[read more]
---
National Scholars Event: A passion for the pursuit of learning
By Mphatso Mlotha | November 5, 2010
Western Engineering took great pride and pleasure in recognizing the accomplishments of its National Scholars at a special event held Thursday, October 14 at Michael's Gardens. The newest recipients include: Kaiz Alarakyia, Lauren Cuthberston, and Anish Srinivasan Naidu.
[read more]
---
United Way Stair Climb: Taking it one step at a time
By Mphatso Mlotha | November 4, 2010
Hearts were pumping, legs were stretched and cheers roared as faculty, staff and students stepped their way up 472 stairs at One London Place on November 4, helping to raise funds for Western's United Way campaign.
[read more]
---
Western rated best student experience for ninth year
Western Engineering News | October 28, 2010
For the ninth year in a row, The University of Western Ontario received top marks in the category 'Most Satisfied Students' in The Globe and Mail's annual Canadian University Report. A new feature of the report, Working Knowledge, takes a career-focused look at the links between undergraduate degrees and employment, arranged by seven fields of study including Engineering and Technology. Western Engineering was ranked among the top schools in the areas of Quality of Education, Career Preparation and Labs and Equipment.
[read more]
---
Out of the red
Macleans.ca | October 28, 2010
The Danube River is famously blue, but after a recent toxic waste spill in Hungary, parts of it were flooded with a sickly red slurry. If a Canadian researcher has his way, the red mud that caused disaster last week could turn very useful indeed, by converting the substance into fuel. Franco Berruti, director of ICFAR, explains how this transformation could take place.
[read more]
---
Western forecast calls for WINDEE future
Western News | October 28, 2010
As Western sets out to make history with the world's first hexagonal wind tunnel, the building itself will be an experiment in science and engineering. Not to take chances on the full-scale facility, Hangan, a Faculty of Engineering professor, uses the mini-dome, standing at about one-tenth full-scale size, as a testing ground to ensure that any construction adjustments are made before it turns into bricks and mortar.
[read more]
---
Wind tunnel bridges industry and research for over 40 years
Western News | October 28, 2010
Western houses the first boundary layer wind tunnel in the world to test man-made structures, such as buildings and bridges. Built in 1965, the first wind tunnel (BLWT 1) can test wind speeds up to 55 miles per hour. The second wind tunnel (BLWT 2), erected in 1984, can test wind speeds up to 100 miles per hour. Both wind tunnels are currently in use today.
[read more]
---
Fund fueling a self-cleaning future
Western News | October 21, 2010
Chemical and biochemical engineering professor Paul Charpentier, who recently received $30,000 from the Western Innovation Fund, is examining how plastic coatings based on polyurethanes can be used for a new generation of self-cleaning, anti-microbial polymer films on various surfaces.
[read more]
---
State Farm invests more than $94,000 in research on building safer homes
Canadian Underwriter.ca | October 19, 2010
State Farm has partnered with the University of Western Ontario's Insurance Research Lab for Better Homes (IRLBH), also known as the "Three Little Pigs Project," to help discover ways to make homes safer and building materials stronger. Since December 2009, State Farm has invested $94,181.80 towards research initiatives with the IRLBH.
[read more]
---
Homecoming 2010
Western Engineering News | October 3, 2010
Western Engineering welcomed approximately 120 alumni back to campus for Homecoming 2010. Engineering alumni and friends gathered in the Claudette MacKay-Lassonde Pavilion for the annual Western Engineering Open House before the football game. Students, faculty and staff were in attendance at the event to reminisce with our alumni and friends, while showcasing our areas of strength.
[read more]
---
Go ENG Girl: An active learning experience
By Mphatso Mlotha | October 2, 2010
Western Engineering opened its doors to over 120 girls in grades 7 – 10, and their parents, on Saturday, October 16, 2010 for the 6th annual Go ENG Girl event. Go Eng Girl is an annual one-day free event that occurs across engineering schools in Ontario. The event encourages girls to attend and learn about the dynamic programs, benefits and wonderful world of Engineering: "A helping profession."
[read more]
---
Western Engineering student selected as president of the AUTO21 HQP Advisory Committee
Western Engineering News
The AUTO21 Highly Qualified People Advisory Committee (HQPAC) executive has announced Mehdi Farrokhnejad, a Mechanical & Materials Engineering PhD student at The University of Western Ontario, will assume the role of president of the HQP Advisory Committee.
[read more]
---
Western Engineering doctoral student receives the The Michael Smith Foreign Study Supplement
ICFAR News
Chemical Engineering doctoral student Federico Berruti recently received The Michael Smith Foreign Study Supplement, a special award that "supports high calibre Canadian graduate students in building global linkages and international networks through the pursuit of exceptional research experiences at research institutions abroad." Berruti is currently studying at the Universidad de Zaragoza (UNIZAR), in Zaragoza, Spain, at the Grupo de Procesos Termoquímicos under Dr. Jesús Arauzo, until the end of 2010.
[read more]
---
Ernest Yanful receives Geoenvironmental Engineering award of the Canadian Geotechnical Society
Western Engineering News
Civil & Environmental Engineering department chair, Ernest Yanful, was presented with the Geoenvironmental Engineering award of the Canadian Geotechnical Society (CGS) at the 63rd Canadian Geotechnical Conference in Calgary this past September. Yanful received this award based on his tremendous contributions in the field of geoenvironmnetal engineering. Read more about Ernest Yanful.
[read more]
---
Research Centre at Forefront of Renewable Energy Technology
Invest in Middlesex Fall 2010 e-Newsletter | October 2010
In a world hungry for clean, renewable energy, a project near Ilderton is making great strides toward achieving that goal. Researchers from the University of Western Ontario are developing ways to turn agricultural waste products into fuel, a process that holds great promise and could be used in many applications.
[read more]
---
Global warming insurance
Canadian Geographic | October 2010
Extreme weather is topping the list of insurance claims. A team of engineers [at Western] are simulating extreme rain, wind and snow on its "Three Little Pigs" house. The insights they are gathering will help identify ways to make buildings that can withstand the very things you insure them against.
[read more]
---
Solar dish research focused on future
Western News | September 23, 2010
Do you remember as a kid using a magnifying glass to generate intense heat to burn a leaf? Technology has come a long way since then, and the work of Western Engineering professor Kamran Siddiqui in the area of solar energy research is taking the use of this free energy resource to new levels.
[read more]
---
Western Engineering finds new way of utilizing solar farms at night
Western News | August 16, 2010
New technology from The University of Western Ontario utilizing photovoltaic (PV) solar farms at night will help in connecting more renewable energy sources like wind turbines to Ontario's grid, increasing power transmission limits, and providing a low-cost way of improving grid voltages and system performance.
[read more]
---

Western Engineering doctoral students earn Vanier scholarship
Three Western Engineering faculty members inducted into the Canadian Academy of Engineering
Christian Lassonde Scholarship awarded
Journal editorship returns to Western
Iron ring for 'the girl with the cool dog'
Western's Formula Racing Teams places 5th at California Race
Equipment donation enhances wireless research at Western
Teeny, tiny fibres a giant breakthrough
WIF helps commercialization of research
World-renowned Fraunhofer Institute of Chemical Technology looks to call London home
Civil engineering professor talks flood control and risk management with China Radio International
Is your home tornado-proof?
Plus welcome and farewell messages, past events and more.

Western Engineering faculty and staff celebrate another banner year
Solar researchers 'borrowing' from plants
Julie Ladiges selected as winner of the AMEC Master's Scholarship in Engineering
Finding mistakes to set them right
Western Faculty Scholars Announced – Two from Engineering
Sunstang team changes direction
Africa becomes a classroom for five Western Engineering students this summer
Horia Hangan receives Lewis F. Moody Award
J.M. Floryan receives CSME Robert W. Angus Medal
Chemical & Biochemical Engineering Research Project Competition winners announced
Kermani receives $300,723 in CFI funding to create a robotics platform
Geosyntec looks at smoldering combustion for site remediation
Learning from disasters to make structures safer
High winds may not have toppled homes
Plus welcome and farewell messages, past events and more.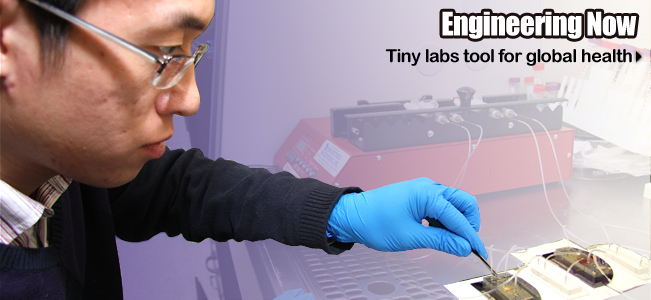 Selecting this year's recipient for the Engineering Prize for Achievement in Research was 'crystal clear'
Designing our students' future
Excellence recognized
Western Engineering researchers recognized for exceptional contributions to engineering in Canada
Business London | January 2010 edition
'Slow burn' renews contaminated property
Western projects receive federal funds
Secret curling broom research Olympics-bound
Hydro One supports power grid research
Hesham El Naggar comments on the earthquake in Haiti
Research promises tears of joy for diabetics
Farming manure for megawatts
Plus welcome and farewell messages, past events and more.
Submit an article
Your participation is greatly appreciated. If you would like to include something in the upcoming edition, contact Allison Stevenson. Your comments and feedback are also greatly appreciated.
Also from this web page:
Contact
.:Allison Stevenson
Spencer Engineering Building, Room 2074
Telephone: (519) 850-2917 Fax: (519) 661-3808 contactWEATeng.uwo.ca
---