Engineering Award Banquet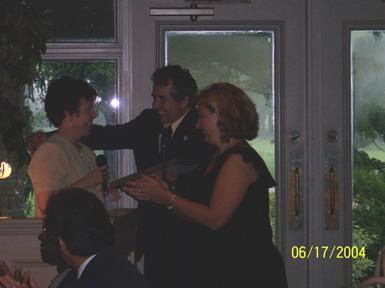 The Annual Engineering Award Banquet was held on Thursday, June 17th at the Westhaven Golf & Country club. The following presentations were made: Raouf Baddour and Michael Mikitiuk, 25 years of service; Peter Castle, Engineering Award for Excellence in Research; Rajiv Varma, R. Mohan Mathur Award for Excellence in Teaching; Chris Seres, Engineering Award of Excellence for Outstanding Achievement by a Staff Member; Chantal Gloor, Engineering Award of Recognition (Faculty & Staff). Congratulations to all of the award winners. The hard work and contributions of all faculty and staff are key to the success of Western Engineering.
Best wishes to the following faculty and staff on the occasion of their retirement:
Peter Castle, Dave Harman, Gary Lusk, Gerry Margaritis, John Sheasby, Tanya Spruyt, Dave Surry and Alan Webster. Western Engineering wishes you all a long and happy retirement.