UWO Formula SAE 2004 Competition
The UWO Formula SAE racing team placed 86th out of 134 teams in the 2004 competition held at the Pontiac Silver Dome in Detroit, Michigan that ran from May 18th to May 23, 2004. This placement was not as high as the team hoped, but was very good considering the turn of events.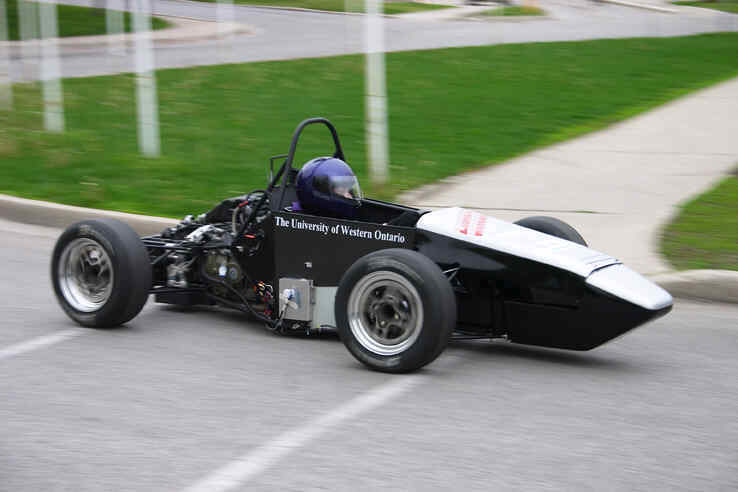 This year's car was a complete redesign and a fresh new concept. The team was tired of the same reiteration of the previous year's cars and decided to make a few key advancements.
The first major change was adding a new Honda F4i engine and a new fuel management computer, the DTA fast Pro. The chassis was completely redesigned and great effort was spent on the overall fit and finish of the car. The team also developed the suspension of the car to new levels with the introduction of a semi-active suspension system which they hope to incorporate fully on the 2005 car. The team also made great leaps in the electrical department with their own data acquisition system and advancements of traction control launch control and shift without lift.
Unfortunately, due to a hold up at the border, some complications with noise restrictions and some loose parts, the team did not place as high as anticipated.
Skid Pad Event – 0 points (missed the event due to complications with the car). Acceleration Event – 0 points (missed the event due to complications with the car).
Autocross Event – 7.5 points
Static Events
Presentation – 13th place
Design - 21st place
Cost Event - 70 out of 100 points

The Western Formula SAE team is now looking forward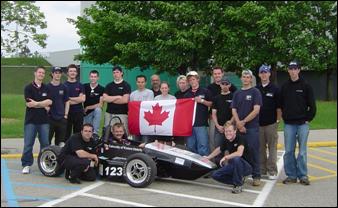 to the 2005 car. They will be keeping a lot of the same design as the 2004 car but will refine any area that had issues through the summer testing. A top priority for the 2005 car is the overall fit and finish. The team also plans to focus on innovative solutions to common problems.
Congratulations to everyone involved with the Formula SAE car. You should all be very proud of your hard work and determination.