Formula SAE raced to 3rd place in Canada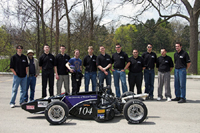 Western's Formula SAE team participated in the 2005 FSAE event in Pontiac, Michigan May 18 –22, 2005. This was the 11th consecutive year the team has competed.
Although the team has been building top-quality racecars for the last five years, they had exceptionally high hopes for the 2005 vehicle.
"We planned to finish in the top third," says Mechanical Engineering Professor A.V. Singh, the team's Faculty Advisor. "But with a strong car and some luck on our side, we finished 22nd overall. This placed us in the top 20 percent."
Not only did the team place well in the competition overall, they did exceptionally well against the other Canadian schools. Their 22nd finished ranked them third in Canada.