Berruti Re-appointed Dean of Engineering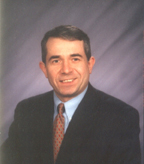 Franco Berruti has been re-appointed Dean of Western Engineering for a five-year term, July 1, 2005 through June 30, 2010.
Originally appointed Dean in 2000, Berruti provides leadership and strategic direction to more than 1,900 undergraduate and graduate students and 85 faculty members in the departments of chemical and biochemical; civil and environmental; electrical and computer; and mechanical and materials engineering. He is a strong promoter of multidisciplinary relationships across the University and within the community.
Before joining Western, Berruti was Dean of Engineering at the University of Saskatchewan.
He holds both a doctoral and a master's degree in chemical engineering from the University of Waterloo and an undergraduate degree from the Politecnico of Torino, Italy. He was a professor at the University of Calgary for 10 years and Associate Dean (Research) before becoming Dean at Saskatchewan in 1996.
A specialist in chemical reactor engineering, Berruti's research has focused on the areas of fluidized bed technologies for transforming heavy oils, biomass or waste materials into valuable chemicals or environmentally friendly fuels. His research work, carried out in collaboration with colleagues in the Faculty, involves a large number of graduate students and is supported by significant research contracts with the private sector and grants from the Natural Sciences and Engineering Research Council (NSERC).
He is a licensed Professional Engineer in Ontario and a member of the Canadian Society for Chemical Engineering; the American Institute of Chemical Engineers; the Chemical Institute of Canada; the Powder Technology Forum; and the Ontario Society for Professional Engineers. He has served on many boards and committees at Western, has published numerous papers, book chapters and technical reports, and is asked to conduct presentations around the world. At Western, he has also pioneered the creation of two electronic scholarly journals in his discipline.
"Franco Berruti is an outstanding Dean, who has strengthened Western's Faculty of Engineering by attracting high-quality students at both the undergraduate and graduate levels," says Paul Davenport, Western's President. "He has also led in faculty renewal with a special emphasis on female recruitment, appointing some of the most promising and creative new professors from Canada and abroad to teach Engineering at Western."
Greg Moran, Western's Provost and Vice-President (Academic), says, "I am very pleased at the reappointment of Franco Berruti as Western's Dean of Engineering. Since taking this position in 2000, he has expanded the Faculty's resources and facilities, and introduced exciting curriculum changes, including innovative new programs, co-op experiences in industrial settings, and joint programs which enable students to work toward degrees in Engineering combined with Business, Law, Medicine and other disciplines."